Pandemonium
An exhibition and activities for children and families as part of the Spark Festival
Midday to 4pm, 27, 28 and 29 May
3 days of playful mayhem. Break the rules. Make the rules. Make friends. Play, rest up. Play again. New rules. New game. Drop in for 3 minutes or return for all three days.
Check out de Montfort University's new contemporary gallery and get involved in the array of fun and exciting activities that are on offer over the weekend.
A part of The Spark Festival.
Recommended age for participants: 4+ and families
Constructs, Colour, Code
Ernest Edmonds 1967 – 2017
25 March to 6 May 2017
Ernest Edmonds is a pivotal figure in the development of digital arts practices and his inspiration can be seen globally both through his teaching and his artwork. He is a Professor at De Montfort University where he leads the Institute of Creative Technologies as Director.
He is based between England and Australia where he runs a practice-based art and technology research group, The Creativity and Cognition Studios. Having studied Mathematics and Philosophy he completed a Ph.D. in Logic.
In the late 1960s, influenced by American Minimalism and Systems Art in the United Kingdom he began to create work where the development was rule governed. Edmonds was one a group of artists that realised there was a strong link between Systems Art and the ways in which computers worked, and he began use computers in his practice.
The pieces in this exhibition span forty years of Ernest Edmonds' work as an artist. The earliest works are concrete poetry, from 1967 to more recent works made this year.
Edmonds' work is one of the great celebrations of the relationship between mathematics and visual art. This exhibition gives an overview of the work of one of the leading pioneers and innovators in the field and his influence continues to grow around the globe.
The Sound of Laughter Isn't Necessarily Funny
Jonathan Monk
27 January to 11 March 2017
Jonathan Monk is one of the world's leading contemporary artists. He lives and works in Berlin and his work is held in private and public collections across the globe.
In this exhibition, three sculptures inhabit the space – a grand piano, a pair of grandfather clocks and a dismembered doll that has passed through the artist's family. Each of these is mechanically animated and their actions mark the passing of time in seemingly arbitrary ways. All the objects have a gothic resonance to them. Their animation suggests human presence, as the piano plays itself and the dolls eyes flicker open.
This is Jonathan Monk's first exhibition in Leicester, the city in which he was brought up. Previous solo exhibitions include Museo d'Arte Contemporanea di Roma, Rome, Irish Museum of Modern Art, Dublin, Palais de Tokyo and Musee d'Art Moderne, Paris, and Institute of Contemporary Art, London.
Photography by Steven Lynch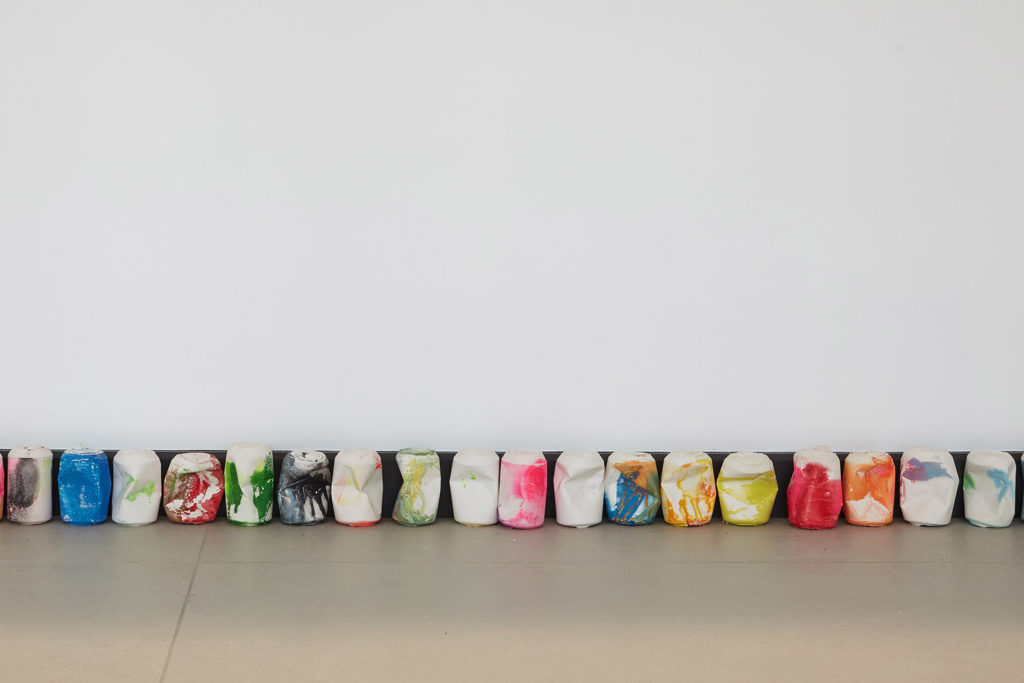 Photography Stuart Whips
Urban Studies
Simon and Tom Bloor
Monday 12 September to Sunday 27 November 2016
The Bloor twins have worked collaboratively since graduating from university. They are at the forefront of a group of artists reinvigorating our ideas about public art in the UK. They work at the intersection of design, fine art, architecture and city planning and have been influential to a new generation of artists working in the public realm. Their work often subverts the original intent of design so it can be used for play.
The artists are the first to show in this space and they take the construction process as their starting point for the exhibition. Using materials redolent of the building site they create a series of sculptures that playfully populate the space. This gallery installation is a major collection of new work from the artists that gently references histories of modernist art and design and the contemporary built environment.
Their work has been shown widely across the UK and internationally in Rotterdam, GuangZhou and Denver, with recent shows in Whitechapel Gallery, Modern Art Oxford and Transmission Gallery, Glasgow.
Photography by Stuart Whips