Notes on a Confinement
Mary o'Neill
Invited Artists: Will Buckingham, Raimi Gbadamosi, Guilherme Gerais, Johanna Hällsten, Netta Laufer, Arjen Mulder
19th – 30th April 2021
Mary O'Neill will be confined in Leicester Gallery from 19th – 25th April.
This project asked artist, writers, and performers from different continents to join in a discussion of how their thinking has altered over the last year as a result of their confinement. Initially the invited participants were asked to go for a walk and record their thoughts.
Though Leicester Gallery is closed the project may be viewed through it's windows.
The Geometry of Language
Philip Corner, Ian Hamilton Finlay, Timothy Hardman, Laura Holmes, Emily Anne Grimstead, Jasper Johns, Alison Knowles, Pasha Kincaid, Edwin Morgan, Bruce Nauman and Paul Neagu
until 10/04/21

This exhibition explores the ways in which artists have used writing and language as part of the vocabulary of visual art. The Geometry of Language draws on work held in the outstanding collections of Fluxus and Concrete poetry at De Montfort University. This collection of prints was brought together by Professor Nicolas Zurbrugg in the 1990s and included many major artists of the late twentieth century including Jasper Johns, Bruce Nauman and Alison Knowles. It is one of the key collections of its kind in the United Kingdom. Alongside works from the collection are four younger artists exploring ideas around language through their current work.
The project has been curated in collaboration with; Emily Anne Grimstead, Laura Holmes, Pasha Kincaid and Timothy Hardman.
Resilience
01/10/20 to 14/11/20
The exhibition is multifaceted exploration of humanity and resilience through illustration, visual art, poetry, film and photography. Many of the artists featured in this exhibition have been supported through Serendipity's BHM Live/Launchpad commission. The exhibition covers photography, film, illustration, manga comic art and visual art.  Featuring new work from:

Ade Coker
Tolu Coker
Stephen Anthony Davids (SAD)
Shangomola Edunjobi
Ana Paz
Patricia Vester
The exhibition is produced by and curated by Serendipity.
If you have any questions or queries please contact leicestergallery@dmu.ac.uk
Universes
Online

Speakers include: Ben Judd, Angela Washko, Sarah Jury, Ayesha Hameed, Kate Pickering, Lucy A. Sames and Bridget Crone, Danielle Brathwaite-Shirley, GodXXX Noirphiles and Tom K Kemp
Curated by Daniel Sean Kelly
A series of online talks and films from artists and writers exploring ideas of universe creation as a mode of contemporary arts practice. The works will be shared through different platforms, some live and some pre-recorded, all accessible through this website. More information can be found here.
Misshapes: The Making of Tatty Devine
November 15th 2019 to February 2nd 2020
Tatty Devine's statement jewellery is always ahead of the curve. Their jewellery tells stories and generates conversation.
Misshapes: The Making of Tatty Devine will feature over 100 pieces from the past 20 years, from the early leather cuffs and piano belts to giant two metre versions of their 'greatest hits' including a lobster, their magpies and a huge banana, alongside sketchbooks, ephemera and two new films.
Tatty Devine's founders Rosie Wolfenden and Harriet Vine set up a market stall in Spitalfields Market in the mid 1990's. Together they challenged jewellery conventions and invested in a laser cutting machine, going on to create personality-packed jewellery much loved and still culturally relevant 20 years on.
A Tatty Devine and Crafts Council touring exhibition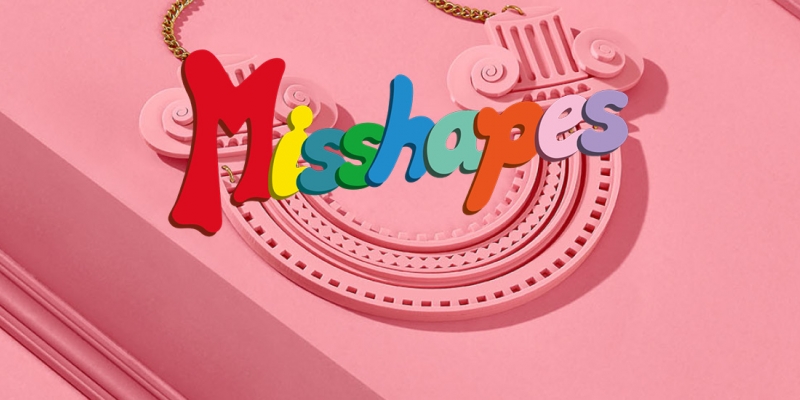 Stop Look Listen
Chris Coekin
The Gallery
13 September to 2 November 2019
Chris Coekin was only 14 years old and living on the Eyres Monsell estate in the south of Leicester when he shot his first roll of film in 1982. Now based in Los Angeles this exhibition is a homecoming show that presents work from the very outset of his career though to his most recent series of photographs. Coekin studied photography at Leicester College.
His photography has seen him showing work in major exhibitions internationally from China to the Lebanon and across Europe. This exhibition is the most expansive presentation of Coekin's work to date, including seven photographic series exploring histories of identity through working men's clubs, histories of factories and unionism, and more recently conflict in the Lebanon and its coverage during his upbringing in the seventies.
His work is an expanded approach to photography combining, text, ephemera, audio and archival imagery within his projects. Though now based in Los Angeles his work is firmly rooted in his British upbringing in Eyres Monsell estate in the south of the city. His work explores the staging of identity through photography. It allows us to think through the way photographs tells stories about individuals and the way in which we use photography to talk about ourselves.
Works also explore the relationship between urban and rural settings that provide such strong focusses of identity for the British. The title of the exhibition is taken from the signs at rail crossings in the countryside that were designed as warnings but could be read as a demand for a better, slower pace of life in the country.
The most recent body of work looks at the relationship between modern day Lebanon and its media coverage during its bombing in the early eighties, the period in which Coekin shot his first photographs.
His work is funny and mischievous, gently sending up grand histories of class, of international politics and documentary photography. The exhibition Stop Look Listen gives an overview of an idiosyncratic photographer observing British identity over the past through thirty years through a lens that is subtly self-reflexive. This quiet and sympathetic study of British identities has been made urgent by the seismic shifts which the nation is undergoing during the run of this exhibition.
Chris Coekin has exhibited widely including shows at: The Photographers' Gallery London, Wolverhampton Art Gallery, Belfast Exposed, Foam Museum Amsterdam, People's History Museum Manchester, Stephen Bulger Gallery Canada. He has had solo shows at the Lodz Festival Poland, the Orange Festival and the Dali International Photography Festival China.
I Can Only Tell You What My Eyes See
Giles Duley
16 to 30 August
Inspiring photographer Giles Duley is set to bring his emotive exhibition, 'I Can Only Tell You What My Eyes See', to The Gallery as part of the annual arts festival, Journeys Festival International Leicester from 16 to 30 August 2019 as well as deliver an insightful, free artist talk on Thursday 22 AugustExploring the diversity of the refugee experience through artistic and creative encounters, and platforming refugee and asylum seeker artists themselves, the 15 day Festival, produced by ArtReach, will showcase the series of a hundred images at De Montfort University.
Sunita Patel, Senior Public Engagement Officer at De Montfort University told us, "The opportunity to host Giles Duley's work was a chance not to be missed. The exhibition is, in itself, incredibly touching and offers a rare insight into the lives of those affected by the migration crisis. Then taking into account Giles' personal journey and experiences, it makes this work even more relevant and more poignant than ever. Working in partnership with the Festival allows the University to bring important art to a wider audience in Leicester and we're looking forward to hosting the exhibition."
Since October 2015, the UK photographer has documented the experiences of refugees for United Nations High Commissioner for Refugees (UNHCR) after already spotlighting the families affected in his work for years.
The photographer shares their stories with his characteristic empathy after criss-crossing Europe and the Middle East to visit 14 countries to capture the extent of the crisis. In a seven-month project, from Lebanon and Lesvos to the camps of Jordan and Iraq, he has put together over a hundred original photographs, complemented thoughtfully by texts from Filippo Grandi, the UN High Commissioner for Refugees and the artist and musician, Robert Del Naja of Massive Attack.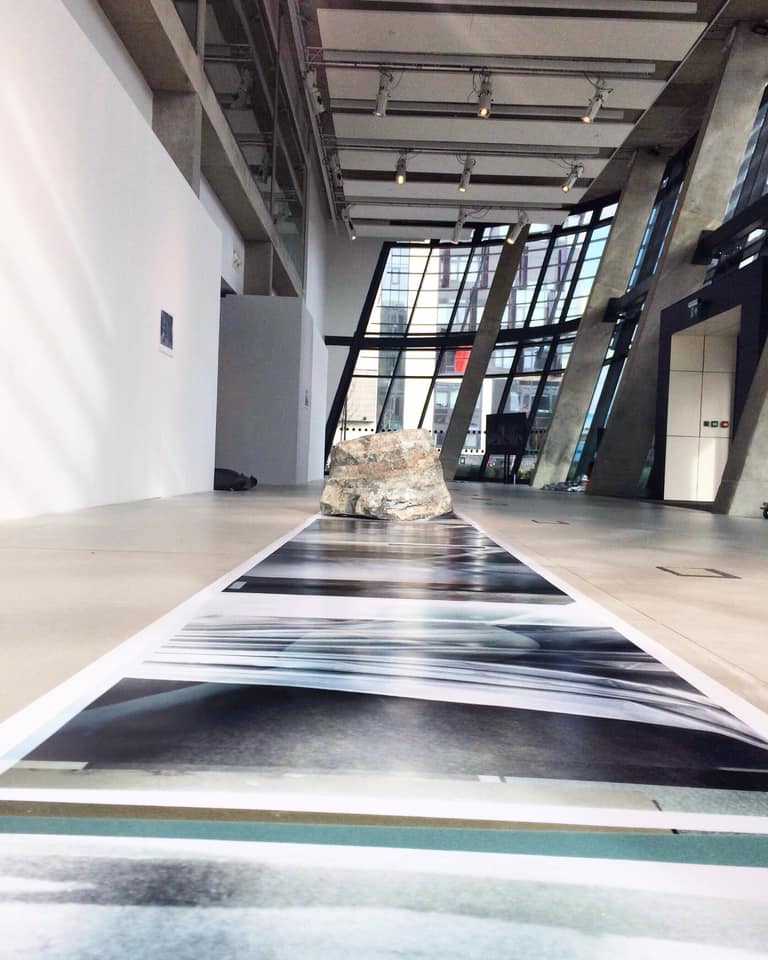 Anna Lucas
One Second Feature
9 March – 27 April 2019
This exhibition brings together a selection of Anna Lucas's early and new work in film and video. Much of the artist's work involves collaboration and participatory practice. Her work within gallery education has provided opportunities for experimentation beyond the studio, resulting in the films Lost (2000), View (2003), Seventh Heaven (2006) and Things that had stories rubbed out (2010).  These were made through publicly-funded gallery programmes at a time when moving image and relational practice were still being developed and defined within a fine art context.
The exhibition takes its title from the newly commissioned work One Second Feature (four) (2019), the long narrow photographic print which fills the expanse of the gallery space.  As a monumental material object, it invites the viewer to walk alongside it in order to see the work in its entirety. Like a film which presents a series of images one after the other over time, the work becomes a moving image through the act of looking.
Through shared looking, Lucas uses her lens to understand people's different perspectives and environments. She is currently exploring the term 'alongsiding' in her work with other artists and individuals, using objects and images in a conversation of collective making. This exhibition includes works made with the artist Alice Walton, including the film and print edition Elektra (2019).
The layout of the exhibition One Second Feature will change over time. Lucas has transformed one part of The Gallery into an 'active studio', where the space operates as a film, photography and dance studio, offering the viewer the opportunity to observe different artists' practices in process. At scheduled times over the course of the exhibition, Lucas and other artists will move artworks through a series of interventions and events which explore participatory process and responsive practice.
Anna Lucas (b.1970, Hexham, UK) works in a wide range of media, from film and photography to drawings and performance, curating events and screenings in a range of contexts. Her practice has evolved through teaching and learning work within gallery education, dance and performance collaboration and further education contexts. Lucas uses a variety of approaches, including using the camera as a tool for research, editing as a space for learning, non-verbal learning and non-hierarchical dialogue. She has been a contributor to a practice-based research project In Site of Conversation with Tate Learning.
Lucas's films are distributed by LUX, UK. Screenings and exhibitions have taken place at: Anthology Film Archives, New York; Tate Modern, London; Essex Road Commission, Tintype Gallery, London; Chisenhale Gallery, London; FACT, Liverpool. She has been a Henry Moore Fellow at Spike Island, Bristol and a Wellcome Trust Fellow at Oxford University. She recently curated events for Little City Studio, Phoenix, Leicester. In her second year of a part-time practice-based Ph.D. at Kingston University, she is a Senior Lecturer in Fine Art at De Montfort University.
BARODA
25 February – 2 March 2019
This is the first of two group exhibitions by Fine Art students and staff from DMU and Maharaja Sayajirao University, Baroda, India, resulting from artist residency exchanges that took place between 2013 and 2015. All the artists involved in the exchange programme have commented on how the experience of working in a different country proved to be 'life changing'. We are delighted to announce that the show will travel to Baroda in June 2019.
---
Brendan Neiland
Surface Tensions
14 December – 9 February 2018/19
This exhibition is a survey of fifty years of the paintings of Brendan Neiland, one of the leading artists of his generation. It consists of more than sixty paintings including works loaned from both private and public collections. This exhibition gives an opportunity for visitors to experience the breadth of Neiland's oeuvre and its development over the years.
Born in 1941 Brendan Neiland was brought up in Birmingham where, after a sojourn at a seminary in Ireland, he attended art school. This exhibition's earliest works are significant and rarely seen early drawings from his time at art school showing. They show his developing interest in the mechanical and the manmade for which he is now so well known. After studying in Birmingham he was accepted at the Royal College of Art. Here he began painting his subject matter with an airbrush, a method that he has used to this day.
The paintings shown come from four bodies of work spanning more than fifty years of Neiland's production; cars, buildings, landscapes and signs. The works all capture his preoccupation with contemporary production, design and highly finished modern surfaces. His iconic car bonnet works from the seventies are a pivotal part of the exhibition and establish his on-running interest in surfaces, design and a celebration of technological progress.
The exhibition shows Neiland's growth as an artist shifting form the shimmering colour fields of his car bonnets to the black grounds of the late neon works. The exhibition allows us to see how closely interrelated the works are through his longstanding interest in the tensions between surfaces portrayed and his immaculately rendered painterly finish.
The works are highly figurative, portraying instantly recognisable elements of our landscape and so have proved immensely popular over the decades not just with collectors but with a broad public.
As part of this exhibition Brendan Neiland will be developing and supporting a week of workshops for students and the wider community in the last week of January 2019. He will talk to students about his journey as an artist, create workshops that allow participants to better understand his techniques and work with families to allow children to make work in response to his.
The exhibition will celebrate one of the most significant artists working in Britain today and give an opportunity for new audiences on campus and beyond to engage with this extraordinary body of work.
---
Kathryn Elkin
fig-futures, WEEK 12/16
20 November – 24 November 2018
For the fourth and final fig-futures exhibition at The Gallery, De Montfort University in Leicester, Kathryn Elkin's new project 'On first impression' will host a live video shoot of a series of staged tutorials with students of De Montfort Fine Art department, during the show's opening event. The students and Elkin will take on multiple roles slipping between tutees, lecturer, actors, subjects and crew. Through its subject matter the work is firmly grounded in the context of the University.
The subsequent footage will then be cut into excerpts for presentation in the gallery through the run of the exhibition. The mutual vanities, fantasies and projections within the one-to-one tutorial will be teased out into a work that hopes to describe the madness and meaning within these exchanges.
As part of Elkin's display the student collaborators will be showing their work that is the apparent subject of the mock tutorials.
---
Annika Ström
fig-futures, WEEK 11/16
20 November – 24 November 2018
For the third iteration of fig-futures at The Gallery, De Montfort University, Annika Ström presents her show 'Six Errands', where she will playfully explore the idea of the performance retrospective. She created her first performance work in Berlin in 1995, where she exhibited her mother in a gallery space for three days. Her mother who is not an artist did drawings of her daughter and then sold them. Since then, Ström has made several performances, including 'Ten Embarrassed Men' commissioned by Frieze Art Fair in 2010, 'Seven women standing in the way' at Focal Point Gallery (2015) and 'The Inept Five' at Corner House (2012). For fig-futures Ström will bring together five previously made performance works and create one new work specifically for Leicester. All performances will be choreographed to run concurrently throughout the launch night and a final coming together of the performers at the end of the event will constitute the sixth piece.
---
Ben Judd, 'Nothing human is strange to me'
fig-futures, WEEK 10/16
13 November – 17 November 2018
For his fig-futures commission at The Gallery De Montfort University, Ben Judd presents a performance, objects and a video. Drawing on Leicester's rich history, including the 20th century immigration of dispossessed groups, 'Nothing Human is Strange to Me' suggests a lost community once occupied the area now inhabited by De Montfort University. Key themes of the community are explored through the performance, which reveals the characters that form the group's hierarchy and its factions. The exhibition is an invitation to experience the community's internal logic – it has a belief system, and a history that is evidenced through the displays.
---
Anna Barham
fig-futures, WEEK 9/16
6 November – 10 November 2018
For our first fig-futures show in Leicester at De Montfort University's The Gallery, Anna Barham will present 'Yet as yet', a text she has developed from Vilem Flusser's 'Vampyrotethis Infernalis' (Vampire Squid) through live readings and computer transcriptions in repeated cycles of performance, documentation and recombination. Through this work, she continues her investigation into language, using both the body and technology as tools to reinterpret words, syntax and meaning by pushing them to their limits.
Following a live reading during the opening on 5 November the material will exist in the form of a score, a projection and an audio work presented within a series of specially designed structures. Together these elements insert the viewer into the body of the text, to become participants in another layer of its production and the images it performs.
fig-futures is a programme of 16 week-long exhibitions across four venues around the UK in 2018 and 2019, and draws on the same curatorial framework as fig-2 at the ICA Studio, London in 2015. The Gallery at De Montfort University is the third institution to exhibit as part of programme across November 2018. For more information visit fig2.co.uk
---
Mitra Tabrizia
Leicestershire
14 September – 27 October 2018
Mitra Tabrizian is an internationally renowned photographer whose work first came to public attention in the early nineties. Her work has a long standing interest in the intermingling of personal stories and historical narratives. This reflects the artist's own heritage. She grew up in Iran during the 1960s and '70s but then left for the United Kingdom shortly before the revolution in 1979.
This exhibition of large scale photographs by Mitra Tabrizian portrays the post-industrial landscape of the Leicester and Leicestershire. In these works the monumental, derelict sites are populated occasionally by the migrant workers whom relocated to the city for employment in them.
This set of photographs is the last made by Tabrizian before focussing on film making since 2012. Her first full length feature film Gholam was released in 2017 to international acclaim. The artist has had solo exhibitions at Tate Britain, London, Moderna Museet, Stockholm and recently exhibited in the Iranian Pavilion at the Venice Biennale, 2015, as well as The Andy Warhol Museum, New York and the National Gallery for Modern Art, Queensland.
These photographs have been shown before in London, Toronto and New York, but this is the first time they will be seen in the county they portray.
---
Pursuits of Happiness
17 July – 1 September 2018
Antonio de La Fe / Andrew Gannon / Rebecca Hobbs / Edwin Li /  Anna Lucas Bruce Nauman / Matthias Sperling / Hiraki Sawa
Pursuits of Happiness brings to life creativity and imagination, opening up a playground where everyone becomes a player . Including iconic board games and games of imagination, artworks and films,  the exhibition offers you the chance to explore physicality and interaction, to play with art and to let the unexpected rule.
Five artists have been commissioned to make games that invite collaborative and creative use of the gallery space. While Rebecca Hobbs explores within her practice the traces of interactions created through play, Andrew Gannon and Anna Lucas set new rules to initiate new conversations prompted by verbal instructions or visual guidance. Matthias Sperling and Antonio de la Fe bring performance into the space with their experimental approaches to dance.
The films of Edwin Li, Bruce Nauman and Hiraki Sawa shift the concept of game play onto the screen, presenting ideas of play where the rules are never made explicit.
Finally, popular board games can be played in the gallery along with action-based games illustrated on flashcards. Sounds from the films, voices and movements from the gallery, art and gameplay intertwine freely and shape the space around responding only to the wildest imagination. Now, how do you envision The Gallery?
---
Alice Tuppen-Corps
Transformational Encounters: Touch Traction Transform
27 April – 12 May 2018
New exhibition at The Gallery, De Montfort University, offers audiences transformational encounters with films, stories, objects and interactive technologies.
Transformational Encounters: Touch, Traction, Transform (TETTT) is large scale interactive artwork which houses nine performative installations made by the artist in response to a year-long transformational dialogue with her participants. 20 people, 21 days, 22 multimedia prompts, 440 interactive responses, 12 films, 9 exhibits – what touches, troubles and transforms us?
This public exhibition engages audiences through physical and sensual interactivity. The use of performative technologies triggers films, images, sounds and interviews from within familiar objects; a bed, a wardrobe, a table, chairs. These interactive installations offer audiences spaces within which to rest and encounter the participant's lives, whilst simultaneously reflecting on their own. The nine artworks are designed to be experienced as a whole, with each installation speaking into the artwork of another, but the journey through the landscape is the audience's own.
Of the installations, a rowing boat reels a film backwards and forwards making and breaking an event. A wardrobe offers opportunity for disappearance and reappearance amongst crows. A four poster bed invites you to sleep, play and peep. A nest and a desk, offer exploration and rest. A silver mirror reflects back the unexpected. An abandoned table is alive with a feast of participation and conversation. A slow journey of walking and wheeling between two 'Peters'. A magic map that speaks to you in constellations of hearts and stars.
Alice Tuppen-Corps
Alice is an interdisciplinary artist-scholar based at De Montfort University (DMU), Leicester. Her Ph.D. practice-based research seeks to understand, 'how digital technologies can be used to generate a new form of empathic relational space between people'. Alice has taught at DMU in Performing Arts, Drama and Creative Technologies and as research assistant in Health and Well Being. She holds former lecturing experience at Leicester, Warwick, St Marys and UCL universities. Alice currently manages Higher Education provision at Brooksby Melton HE College (BMC) in association with the University of East Anglia (UEA) and University of Bolton (UOB). Alice trained at Goldsmiths College and The Slade School of Fine Art and graduated with a First Class Honours Degree in Fine Art in 1997, gaining a Master of Arts in Creative Technologies with Distinction from DMU in 2014. She also has a background in Broadcast Media Production and Arts Psychotherapy.
Specifically, Alice re-stages individual stories within filmic, augmented, networked and tactile environments in order to generate new qualities of reflective space that empower transformation, contemplation and connection. Within such structures, a hopeful and restorative dance is activated that forms the enabling agent to affectively transform the emotional, spiritual and creative experience of worlds.
www.alicetuppencorps.com
ally@alicetuppencorps.com
@allytups
alicetupcorps
alicetuppencorps
---
Migration and Refugees
18 April – 21 April 2018
A showcase of research at De Montfort University
This exhibition and series of talks is inspired by the United Nations (UN) Together campaign, and brings research in migration and refugees across De Montfort University (DMU) into focus.
DMU has been asked by the UN to take the lead in engaging the higher education sector worldwide to be part of the Together campaign. The Together campaign promotes respect, safety and dignity for refugees and migrants. Its key objective is to create a different narrative on refugees and migration, emphasising the benefits of migration and diversity, whilst acknowledging that genuine concerns exist.
DMU was invited to take this lead because of its work throughout Leicester and beyond, offering staff and students volunteering opportunities which benefit refugees, asylum seekers and migrants through its pioneering #DMUlocal and Square Mile programmes.
This January, hundreds of students from DMU visited the UN headquarters in New York to formally begin work on the Together campaign. International universities were invited to a summit held in one of the UN's famous debating chambers, creating a global network of universities committed to finding ways to successfully integrate refugees into communities, while spreading messages of tolerance and understanding.
DMU is now working with the nine other Together university partners in the USA, Germany, Cyprus and China to share ideas and best practice, while continuing to engage new universities from around the world to be part of the campaign.
This Together research showcase highlights the breadth of research in migration and refugees at DMU, bringing it together for the first time and offering new opportunities across the university – including the creation of a new DMU research network. It is anticipated that the showcase will become an annual event, to help make this research more visible and accessible to the local community as well as to the general public.
---
Walker & Bromwich: An Act of Participation
15th December – 17th March 2018

This exhibition is the first showing in a gallery setting of two major projects by the artists Walker and Bromwich. The two works, The Art Lending Library and The Dragon of Profit and Private Ownership, dating from 2012 and 2017 respectively explore themes of public and private ownership and suggest utopian social models. Both works offer up multiple forms of participation for the audience from membership of the library to performance in a satirical pageant.
Walker and Bromwich are artists based in Glasgow. They have been producing public projects looking at alternative social structures through sculpture, pageantry, and performance for the past two decades. They are perhaps best known for their work Celestial Radio, a fully functioning pirate radio station broadcasting from a mirrored yacht. Their works are visually arresting, optimistic and political and often provide a setting for events allowing discussion around issues raised through the project.
The Art Lending Library, developed by Walker and Bromwich in collaboration with Market Gallery, is a mobile structure that houses over 50 art works by a diverse range of artists working across the broad spectrum of contemporary visual arts practice. The collection contains works by international established to emerging artist from a diversity of backgrounds from Taiwan to Georgia to Leicester. Through this project the works are available for loan to visitors. To take advantage of this they have to join the library and receive their membership card, after which they are able to select work to borrow. They will then be delivered to their home by trained installation staff as part of the project and collected at the end of the loan period.
Alongside the Art lending Library is their most recent project, The Dragon of Profit and Private Ownership (2017). The project emerged from work with ex-mining communities in Ashington in Northumberland. At the heart of the artist's presentation at The Gallery is a huge inflatable dragon with the words profit and private ownership written on it's side and inspired by Trade Union banners of the nineteen-twenties. Alongside The Dragon is the film documenting the project and bringing to life the aspirations and achievements of the post war trade Unions within the context of today's society. The project finale is a satirical pageant that questions dominant mythologies and defies the beast of capitalism.
Walker and Bromwich have shown in Tate Britain, London, The Whitechapel Gallery, London, Museum of Contemporary Art, Sydney, BALTIC, Gateshead; ACCA Melbourne; Kiasma Museum of Contemporary Art, Helsinki; Kunstlerhaus, Vienna; Zeppelin Museum, Germany; Edinburgh and The Scottish National Gallery of Modern Art, Edinburgh.
---
Jamie Shovlin: Subs
15th September – 25th November 2017

The Gallery is proud to present Subs (2017), a new film commission from Jamie Shovlin.
Subs follows a season in the life of youth Sunday League football club, Anstey Swifts. Titled in relation to the subscription fee paid by each child to play, Subs fuses elements of the essay film, social history and self-portrait to create a multi-dimensional account of the Swifts' expanded landscape. The film will be displayed at The Gallery in a specially designed widescreen installation.
The film installation forms the centrepiece of the exhibition at The Gallery and is flanked by two trophies from Shovlin's archives, presented here as sanctified historical objects. They are infused with value through their place within familial and community histories. Their personal significance far outweighs their aesthetic presence and they act as a physical counterpart to the themes within the film.
Made in collaboration with De Montfort University's International Centre for Sports History and Culture, Subs relates the social value and historical precedents of community activity in the construction of individual, local and national identities. Against the backdrop of the nationwide political upheaval of 2016, the film questions ideas of community through the relationships between parents and players, aspirations and reality and past and present within the club. Subs outlines the psychological and emotional engagement from the Swifts' players and parents and considers their – and Shovlin's own – relationship to self, place and history.
Subs has been supported by Arts Council England Grants for the Arts and The Leverhulme Trust.
---
Julie Cope's Grand Tour: The Story of a Life by Grayson Perry
29 July – 2 September 2017
Grayson Perry's iconic Essex House tapestries are being shown in Leicester this summer as part of The Gallery at De Montfort University's program. The exhibition opens Saturday 29th July and will run until Saturday the 2nd of September.
Julie Cope is a fictional character created by Grayson Perry – an Essex everywoman whose story he has told through the two tapestries and extended ballad presented in the exhibition. The Essex House Tapestries: The Life of Julie Cope (2015) illustrate the key events in the heroine's journey from her birth during the Canvey Island floods of 1953 to her untimely death in a tragic accident on a Colchester street. Rich in cultural and architectural details, the tapestries contain a social history of Essex and modern Britain that everyone can relate to.
The tapestries are shown alongside a graphic installation, and specially commissioned audio recording of The Ballad of Julie Cope, a 3000 word narrative written and read by Perry himself that illuminates Julie's hopes and fears as she journeys through life.
These artworks represent, in Perry's words, 'the trials, tribulations, celebrations and mistakes of an average life'. Historically, large-scale tapestry provided insulation for grand domestic interiors; Perry has juxtaposed its associations of status, wealth and heritage with the current concerns of class, social aspiration and taste. To write Julie's biography, he looked to the English ballad and folktale tradition, narrating a life that conveys the beauty, vibrancy and contradictions of the ordinary individual.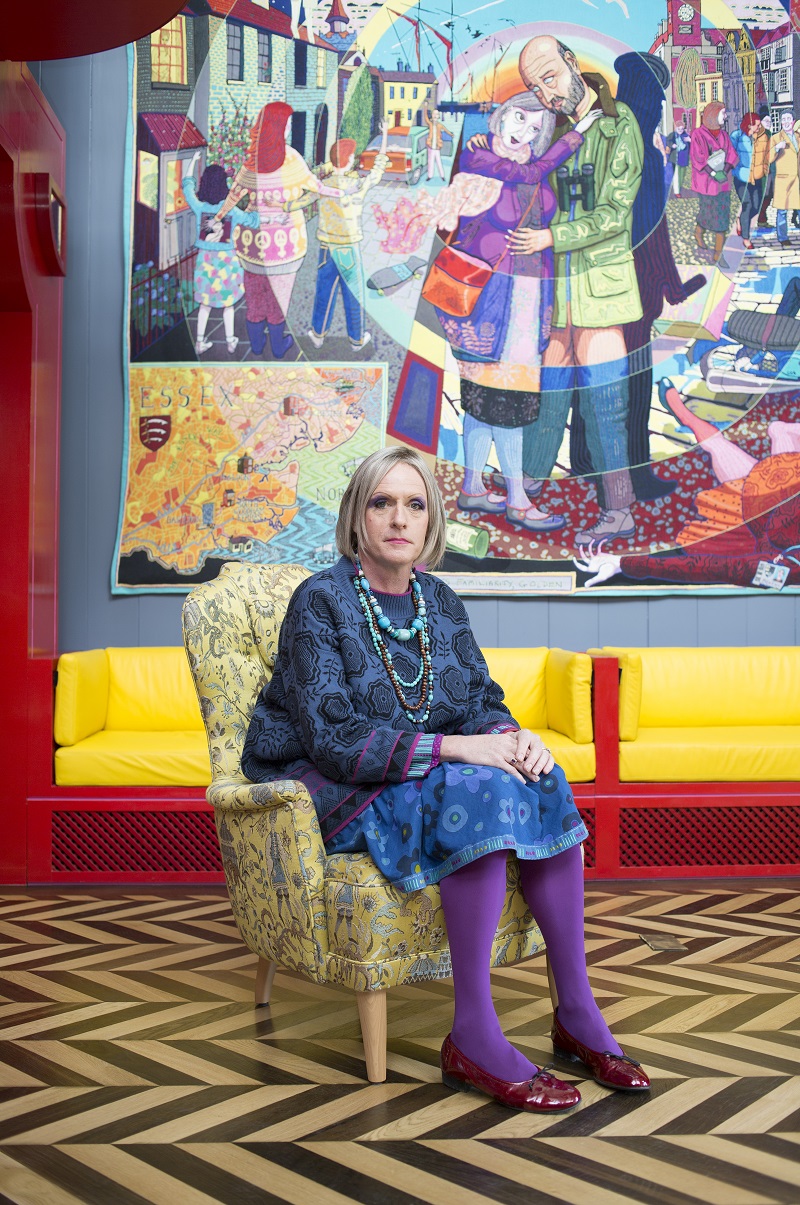 Grayson Perry Portrait © Katie Hyams and Living Architecture
Inside Out: An exhibition of furniture from the Crafts Council Collection
29 July – 2 September 2017
Inside Out features 24 pieces from the Crafts Council's Collection representing significant makers from four decades of the Collection. The earliest piece is Chair by Alan Peters OBE made in 1978 and the most recent Sarah Kay's Helga chair from 2007 with work by Richard La-Trobe Bateman, Floris van den Broeke, Tom Dixon, Tomoko Azumi and Wales & Wales representing furniture through the 80s, 90s and the 2000s.
Furniture making traditionally considered function and ergonomics yet some of these pieces ignore such considerations including Fred Baier's extraordinary display unit Megatron – Whatnot – Etagère (1985) made using then pioneering free-form bending and Michael Anastassiades' playful Bedside Table (1996) made of industrial felt and able to muffle an alarm clock if more sleep is required.
The pieces cover a range of materials including recycled plastic bottles, corrugated cardboard, acrylic, ash, glass fibre, oak and metal with an equally diverse number of processes on display.
---
Art School:
Experiments in Time and Space
Sumiko Eadon, Andrew Gannon, Daniel Sean Kelly, Anna Lucas, Theo Miller
This exhibition brings together a selection of paintings, prints, films, sculptures and performances from the past five years, including several new works on public display for the first time. Made from diverse materials, all of the artworks are experimental and explore themes of time and space.
Art School takes as its starting point DMU lecturer Anna Lucas's film of the same name . It portrays the former building of De Montfort University's Fine Art department before it moved to its current premises.
The exhibition includes work by graduates and staff at De Montfort University.
Pandemonium
An exhibition and activities for children and families as part of the Spark Festival
27 – 29 May 2017
3 days of playful mayhem. Break the rules. Make the rules. Make friends. Play, rest up. Play again. New rules. New game. Drop in for 3 minutes or return for all three days.
Check out de Montfort University's new contemporary gallery and get involved in the array of fun and exciting activities that are on offer over the weekend.
A part of The Spark Festival.
Recommended age for participants: 4+ and families
---
Constructs, Colour, Code

Ernest Edmonds 1967 – 2017
25 March – 6 May 2017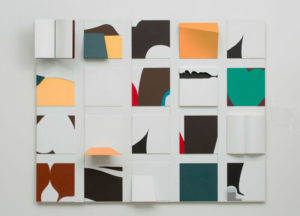 Ernest Edmonds is a pivotal figure in the development of digital arts practices and his inspiration can be seen globally both through his teaching and his artwork. He is a Professor at De Montfort University where he leads the Institute of Creative Technologies as Director.
He is based between England and Australia where he runs a practice-based art and technology research group, The Creativity and Cognition Studios. Having studied Mathematics and Philosophy he completed a Ph.D. in Logic.
In the late 1960s, influenced by American Minimalism and Systems Art in the United Kingdom he began to create work where the development was rule governed. Edmonds was one a group of artists that realised there was a strong link between Systems Art and the ways in which computers worked, and he began use computers in his practice.
The pieces in this exhibition span forty years of Ernest Edmonds' work as an artist. The earliest works are concrete poetry, from 1967 to more recent works made this year.
Edmonds' work is one of the great celebrations of the relationship between mathematics and visual art. This exhibition gives an overview of the work of one of the leading pioneers and innovators in the field and his influence continues to grow around the globe.
---
The Sound of Laughter Isn't Necessarily Funny
Jonathan Monk
27 January – 11 March 2017
Jonathan Monk is one of the world's leading contemporary artists. He lives and works in Berlin and his work is held in private and public collections across the globe.
In this exhibition, three sculptures inhabit the space – a grand piano, a pair of grandfather clocks and a dismembered doll that has passed through the artist's family. Each of these is mechanically animated and their actions mark the passing of time in seemingly arbitrary ways. All the objects have a gothic resonance to them. Their animation suggests human presence, as the piano plays itself and the dolls eyes flicker open.
This is Jonathan Monk's first exhibition in Leicester, the city in which he was brought up. Previous solo exhibitions include Museo d'Arte Contemporanea di Roma, Rome, Irish Museum of Modern Art, Dublin, Palais de Tokyo and Musee d'Art Moderne, Paris, and Institute of Contemporary Art, London.
---
Photography by Steven Lynch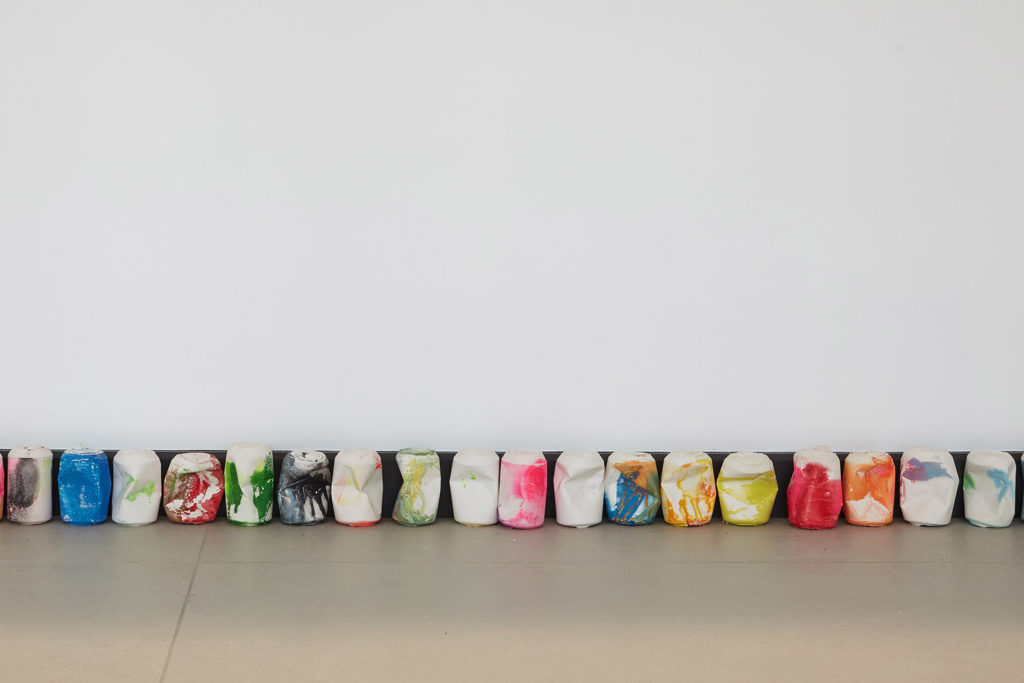 Photography Stuart Whips
Urban Studies
Simon and Tom Bloor
Monday 12 September to Sunday 27 November 2016
The Bloor twins have worked collaboratively since graduating from university. They are at the forefront of a group of artists reinvigorating our ideas about public art in the UK. They work at the intersection of design, fine art, architecture and city planning and have been influential to a new generation of artists working in the public realm. Their work often subverts the original intent of design so it can be used for play.
The artists are the first to show in this space and they take the construction process as their starting point for the exhibition. Using materials redolent of the building site they create a series of sculptures that playfully populate the space. This gallery installation is a major collection of new work from the artists that gently references histories of modernist art and design and the contemporary built environment.
Their work has been shown widely across the UK and internationally in Rotterdam, GuangZhou and Denver, with recent shows in Whitechapel Gallery, Modern Art Oxford and Transmission Gallery, Glasgow.
Photography by Stuart Whips