Image: Johhny Dewe-Mathew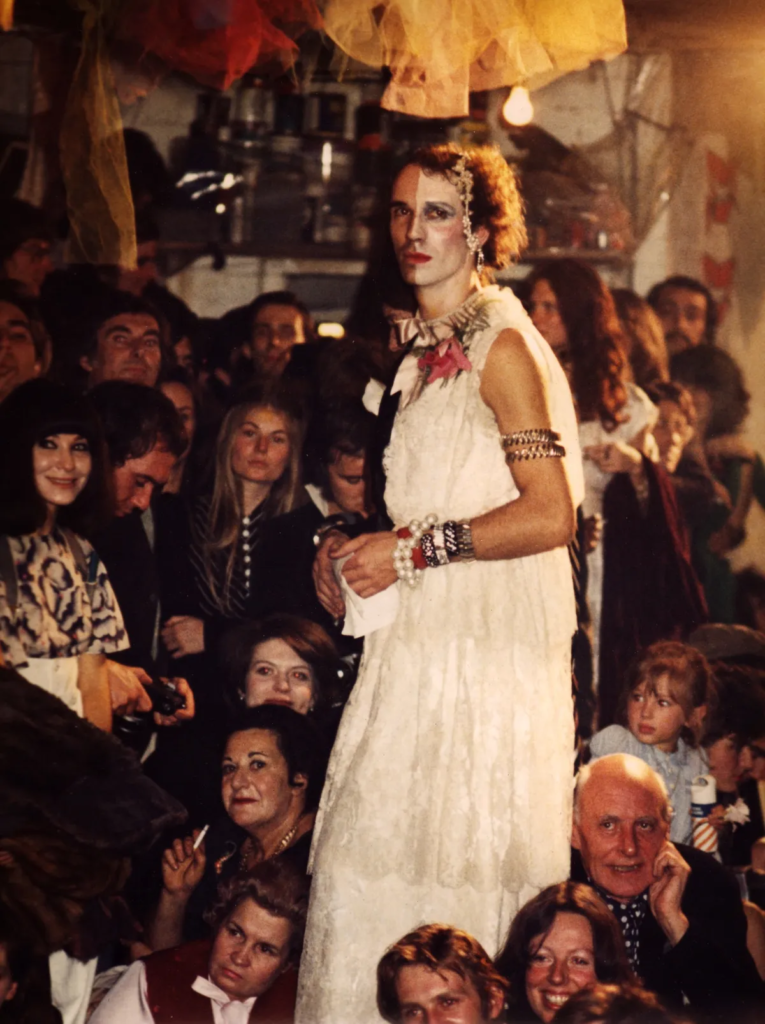 Andrew Logan's Alternative Miss World
13 July to 21 October 2022
Leicester Gallery is proud to present Andrew Logan's Alternative Miss World, an exhibition of sculpture, costume and printed material celebrating fifty years of the iconic countercultural pageant.
In 1972 the artist Andrew Logan hosted the first Alternative Miss World pageant at his studios in Hackney, East London. The event was for everyone, aspiring to be a celebration of equality across gender, age, race and sexuality set free in a million guises. There was even a robot winner in 1985. It became a mock beauty contest that went on over the years to be to see contestants compete in daywear, swimwear and evening wear categories but judged on the same criteria as the dogs at Crufts: poise, personality and originality.
Over fourteen editions, held roughly every four years this was a riotous celebration of inclusivity and generosity and provided a wicked antidote to the maudlin conformity of mainstream beauty pageants, most famously Miss World. The show was an explosion of creativity, building a platform and community that drew in key cultural figures from Vivien Westwood and Zandra Rhodes via Derek Jarman, David Hockney and Leigh Bowery to Little Nell and Richard O'Brien. At these early events the seeds of contemporary performance art, punk and new romantic aesthetics can be found.
Whilst Alternative Miss World doesn't wear its politics on its sleeve it was a beacon for tolerance and equality in an England riven by prejudice in the seventies and eighties. It's unapologetic inclusivity and celebration of difference provided a haven in which performers and attendees were able to express themselves safely, albeit drawing he ire of the tabloids occasionally.
Following in the tradition of Gesamtkunstwerk, actors, film makers, painters, sculptors, dancers, musicians and fashion designers all worked together to create these extraordinary shows of which Andrew Logan was host and creator. This exhibition will show Andrew's portraits of participants, sculptures, costume and jewellery and films and photographs documenting the chaos and wonder of Alternative Miss World since the seventies. It both celebrates fifty years since the first Alternative Miss World party and marks the gift of the Andrew Logan Archive to De Montfort University, which is now a part of the University's Special Collections.
Art by Post: Of Home and Hope
Thursday 3 February – Saturday 19 February 2022
The Southbank Centre's Art by Post project launched in May 2020 to provide free creative activities to people across the UK at risk of social isolation, loneliness and digital exclusion. The project commissioned 17 artists to make 11 activity booklets, sent to over 4500 participants with the help of numerous referral partners. A network of delivery partners and referral partners were central to the project, including Leicester Musical Memory Box and Beaumanor Care Home​​, who referred participants from Leicester and surrounding areas. More than 600 poems, drawings, paintings and mixed media works were posted back in response.
Art by Post: Of Home and Hope brings together a selection of artworks first exhibited at the Southbank Centre in September. The exhibition was organised around three key themes: Nature, Sound & Movement and Hope. These categories emerged from the activity booklets and the submitted artworks. However, they also illustrate the basic needs that continue to be vital to us all – green spaces, music, dance, physical activity and people to share experiences with. Elements of the exhibition are here at Leicester Gallery as part of the national tour.
Simultaneously, the online exhibition on the Southbank Centre's website showcases the full collection of over 600 artworks, audio recordings of participants reading their poems and films that tell the Art by Post story from the perspective of the participants. The exhibition makes visible the spirit and talent of the participants and the dedicated artists and organisations that have supported them.
The Art by Post exhibition and national tour is delivered in partnership with the National Academy for Social Prescribing, with additional support from the Granada Foundation.
The Art by Post project is supported by Paul Hamlyn Foundation. Project delivery partners are Age UK Oxfordshire and Camden, artsdepot, The Barn, Beacon Arts Centre, Dulwich Picture Gallery, HOME, King's College Hospital NHS Foundation Trust, NAPA Arts in Care Homes, Nightingale Hammerson, Philharmonia Orchestra, Platform and Sunderland Culture.
The exhibition tour continues to HOME in Manchester.
Please visit southbankcentre.co.uk/artbypost to view the full range of artworks by
our participants.
10th July – 28th August 2020, We are Commoners explores ideas of craft, sharing and communal resources through the idea of commoning. This is a model of living based on community and support rather than competition, and represents a more sustainable vision of the future.
---
Until 3rd July 2020, This exhibition celebrates some of the extraordinary work produced by class of 2020 from Art and Design Courses at De Montfort University after they graduated. This cohort are a year out of University and this exhibition gives a taste of their achievements during this time.
---
19 April – 30 April 2021, Invited Artists: Will Buckingham, Raimi Gbadamosi, Guilherme Gerais, Johanna Hällsten, Netta Laufer, Arjen Mulder.
---
18 March – 10 April 2021, Philip Corner, Ian Hamilton Finlay, Timothy Hardman, Laura Holmes, Emily Anne Grimstead, Jasper Johns, Alison Knowles, Pasha Kincaid, Edwin Morgan, Bruce Nauman and Paul Neagu.
---
1 October – 14 November 2020, Ade Coker, Tolu Coker, Stephen Anthony Davids (SAD), Shangomola Edunjobi, Ana Paz & Patricia Vester. Produced by and curated by Serendipity.
---
Online, Speakers include: Ben Judd, Angela Washko, Sarah Jury, Ayesha Hameed, Kate Pickering, Lucy A. Sames and Bridget Crone, Danielle Brathwaite-Shirley, GodXXX Noirphiles and Tom K Kemp.
---
15 November 2019 – 2 February 2020, Misshapes: The Making of Tatty Devine will feature over 100 pieces from the past 20 years, from the early leather cuffs and piano belts to giant two metre versions of their 'greatest hits'
---
13 September – 2 November 2019, The exhibition Stop Look Listen gives an overview of an idiosyncratic photographer observing British identity over the past through thirty years through a lens that is subtly self-reflexive.
---
16 August – 30 August 2019, Inspiring photographer Giles Duley is set to bring his emotive exhibition, 'I Can Only Tell You What My Eyes See', to The Gallery as part of the annual arts festival, Journeys Festival International Leicester
---
9 March – 27 April 2019, This exhibition brings together a selection of Anna Lucas's early and new work in film and video. Much of the artist's work involves collaboration and participatory practice. Her work within gallery education has provided opportunities for experimentation beyond the studio.
---
25 February – 2 March 2019, This is the first of two group exhibitions by Fine Art students and staff from DMU and Maharaja Sayajirao University, Baroda, India, resulting from artist residency exchanges that took place between 2013 and 2015.
---
14 December 2018- 9 February 2019, This exhibition is a survey of fifty years of the paintings of Brendan Neiland, one of the leading artists of his generation. It consists of more than sixty paintings including works loaned from both private and public collections. This exhibition gives an opportunity for visitors to experience the breadth of Neiland's oeuvre and its development over the years.
---
20 November – 24 November 2018, Kathryn Elkin, For the fourth and final fig-futures exhibition at The Gallery, De Montfort University in Leicester, Kathryn Elkin's new project 'On first impression' will host a live video shoot of a series of staged tutorials with students of De Montfort Fine Art department, during the show's opening event.
---
20 November – 24 November 2018, For the third iteration of fig-futures at The Gallery, De Montfort University, Annika Ström presents her show 'Six Errands', where she will playfully explore the idea of the performance retrospective. She created her first performance work in Berlin in 1995, where she exhibited her mother in a gallery space for three days.
---
13 November – 17 November 2018, Ben Judd, 'Nothing human is strange to me'. For his fig-futures commission at The Gallery De Montfort University, Ben Judd presents a performance, objects and a video. Drawing on Leicester's rich history, including the 20th century immigration of dispossessed groups.
---
6 November – 10 November 2018, Anna Barham, For our first fig-futures show in Leicester at De Montfort University's The Gallery, Anna Barham will present 'Yet as yet', a text she has developed from Vilem Flusser's 'Vampyrotethis Infernalis' (Vampire Squid) through live readings and computer transcriptions in repeated cycles of performance, documentation and recombination.
---
14 September – 27 October 2018, Mitra Tabrizian is an internationally renowned photographer whose work first came to public attention in the early nineties. Her work has a long standing interest in the intermingling of personal stories and historical narratives.
---
17 July – 1 September 2018, Antonio de La Fe / Andrew Gannon / Rebecca Hobbs / Edwin Li /  Anna Lucas / Bruce Nauman / Matthias Sperling / Hiraki Sawa. Pursuits of Happiness brings to life creativity and imagination, opening up a playground where everyone becomes a player.
---
27 April – 12 May 2018, (TETTT) is large scale interactive artwork which houses nine performative installations made by Alice Tuppen-Corps in response to a year-long transformational dialogue with her participants. 20 people, 21 days, 22 multimedia prompts, 440 interactive responses, 12 films, 9 exhibits – what touches, troubles and transforms us?
---
18 April – 21 April 2018, This exhibition and series of talks is inspired by the United Nations (UN) Together campaign, and brings research in migration and refugees across De Montfort University (DMU) into focus.
---
15 December – 17 March 2018, This exhibition is the first showing in a gallery setting of two major projects by the artists Walker and Bromwich. The two works, The Art Lending Library and The Dragon of Profit and Private Ownership, dating from 2012 and 2017 respectively explore themes of public and private ownership and suggest utopian social models.
---
15 September – 25 November 2017, Subs follows a season in the life of youth Sunday League football club, Anstey Swifts. Titled in relation to the subscription fee paid by each child to play, Subs fuses elements of the essay film, social history and self-portrait to create a multi-dimensional account of the Swifts' expanded landscape.
---
29 July – 2 September 2017, Grayson Perry's iconic Essex House tapestries are being shown in Leicester this summer as part of The Gallery at De Montfort University's program. Julie Cope is a fictional character created by Grayson Perry – an Essex everywoman whose story he has told through the two tapestries and extended ballad presented in the exhibition.
---
29 July – 2 September 2017, Inside Out features 24 pieces from the Crafts Council's Collection representing significant makers from four decades of the Collection.
---
Sumiko Eadon, Andrew Gannon, Daniel Sean Kelly, Anna Lucas, Theo Miller. This exhibition brings together a selection of paintings, prints, films, sculptures and performances from the past five years, including several new works on public display for the first time.
---
27  May – 29 May 2017, An exhibition and activities for children and families as part of the Spark Festival, 3 days of playful mayhem. Break the rules. Make the rules. Make friends. Play, rest up. Play again. New rules. New game. Drop in for 3 minutes or return for all three days.
---
25 March – 6 May 2017, Ernest Edmonds is a pivotal figure in the development of digital arts practices and his inspiration can be seen globally both through his teaching and his artwork. He is a Professor at De Montfort University where he leads the Institute of Creative Technologies as Director.
---
27 January – 11 March 2017, In this exhibition, three sculptures inhabit the space – a grand piano, a pair of grandfather clocks and a dismembered doll that has passed through the artist's family. Each of these is mechanically animated and their actions mark the passing of time in seemingly arbitrary ways.
---
12 September – 27 November 2016, Simon and Tom Bloor, The Bloor twins have worked collaboratively since graduating from university. They are at the forefront of a group of artists reinvigorating our ideas about public art in the UK. Their work often subverts the original intent of design so it can be used for play.
---