Ernest Edmonds 1967 – 2017
25 March – 6 May 2017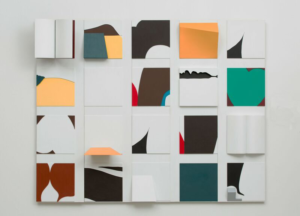 Ernest Edmonds is a pivotal figure in the development of digital arts practices and his inspiration can be seen globally both through his teaching and his artwork. He is a Professor at De Montfort University where he leads the Institute of Creative Technologies as Director.
He is based between England and Australia where he runs a practice-based art and technology research group, The Creativity and Cognition Studios. Having studied Mathematics and Philosophy he completed a Ph.D. in Logic.
In the late 1960s, influenced by American Minimalism and Systems Art in the United Kingdom he began to create work where the development was rule governed. Edmonds was one a group of artists that realised there was a strong link between Systems Art and the ways in which computers worked, and he began use computers in his practice.
The pieces in this exhibition span forty years of Ernest Edmonds' work as an artist. The earliest works are concrete poetry, from 1967 to more recent works made this year.
Edmonds' work is one of the great celebrations of the relationship between mathematics and visual art. This exhibition gives an overview of the work of one of the leading pioneers and innovators in the field and his influence continues to grow around the globe.