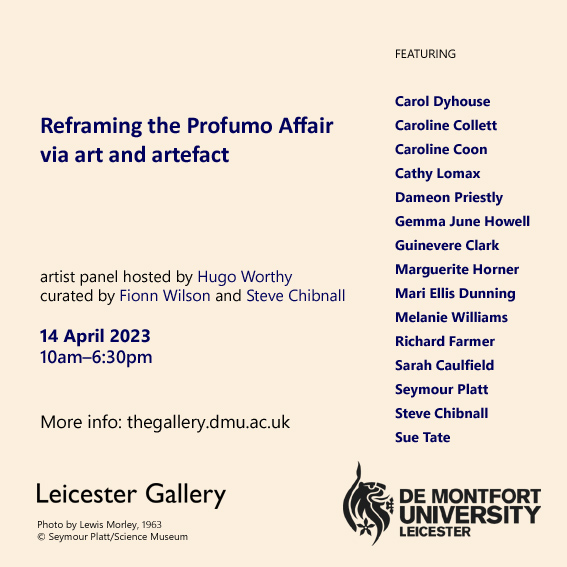 Scandal '63 Revisited: Symposium
The symposium for the exhibition 'Scandal '63 Revisited: Reframing the Profumo Affair via Art and Artefact'
Curated by Fionn Wilson and Steve Chibnall
Including a performance/talk by feminist artist Caroline Coon, a Q&A with Christine Keeler's son, Seymour Platt, and a talk from feminist art historian Sue Tate on the work of artist and Pop Art pioneer, Pauline Boty
AGENDA
10:20: WELCOME: with Steve Chibnall and Leicester Gallery manager Hugo Worthy
10:30: Steve Chibnall: Portraits of a Scandal: The Art of Stephen Ward
11:15: Creative writings: Christine as Muse
with writing from Caroline Collett and poetry readings from Sarah Caulfield, Guinevere Clark,
Mari Ellis Dunning and Gemma June Howell (via MS Teams).
12.15: Melanie Williams: Christine Keeler and Fashion in the Early Sixties
13.00: BREAK FOR LUNCH at the Food Village
13:40: Gallery visit and informal 'Meet the Curators'
with curators Fionn Wilson and Steve Chibnall.
14:15: KEYNOTE: Carol Dyhouse: Girl Trouble: Panic and Progress in the History of Young Women
15.00: Richard Farmer: The Profumo Scandal in Popular Culture
15.45: Q&A with Christine Keeler's son, Seymour Platt (via MS Teams)
16:15: COFFEE BREAK
16.30: Sue Tate: Pauline Boty's 'Scandal '63' and the Politics of Gender
17:10: Caroline Coon: I AM WHORE
17.50: In Conversation: Artists Cathy Lomax, Dameon Priestly and Marguerite Horner
hosted by Hugo Worthy.
18.30 FINISH
Tickets to the symposium are free but please reserve seats via the Eventbrite link:
https://www.eventbrite.co.uk/e/scandal-63-revisited-symposium-tickets-592334046077