Leicester Gallery Shop Launch
Friday 6 December
5pm to 7pm
Christmas is coming and our new shop at Leicester Gallery is now officially open.
We would be thrilled if you were able to come and celebrate the season here with mince pies, mulled wine, bubbles and a 10% discount on all stock from the shop. There will also be an opportunity to see the amazing exhibition Misshapes: The Making of Tatty Devine.
Leicester Gallery Shop carries a wide range of products showing iconic designers and artists alongside new and emerging makers. From greeting cards to stationery and housewares by way of children's games, the shop offers something for everyone.
What unites our stock is a witty and elegant sensibility shaped by outstanding craft and care. This can be found running through everything; our Sukie or David Shrigley greetings cards, Port West's beautiful notebooks and our Tatty Devine jewellery range.
Leicester Gallery and the shop are open Monday to Saturday from midday to 5pm
---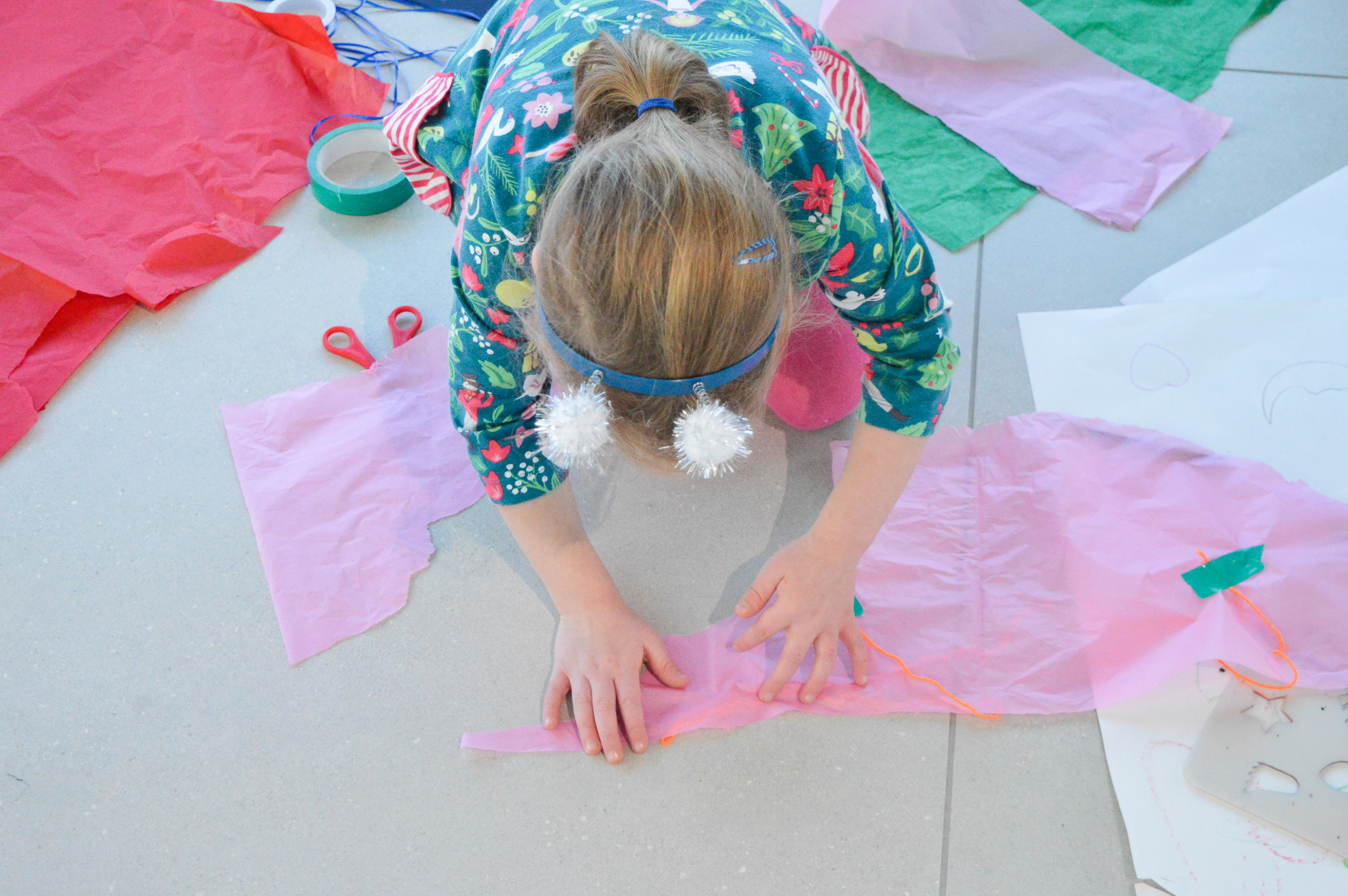 Open Play: New Years Eve Party
Tuesday 31st December 11am – 1pm
Put your party hats on and join us at Leicester Gallery for our first ever New Years Eve Party for babies and toddlers aged 0-4 years. There will be music, refreshments and play led activities.
---

Leicester Gallery talks:
Dominic Wilcox
Wednesday 27 November
5.30pm to 7.30pm
Dominic Wilcox works across the worlds of art, design, craft and technology to create innovative, thought-provoking objects and ideas. His diverse work includes the world's first GPS shoes and a stained-glass driver-less sleeper car of the future, currently on display at the Science Museum, London.
Since graduating from the Royal College of Art in 2002 he has exhibited his work in museums and galleries internationally. He is also on a mission to inspire children to
become the creative thinkers and inventors of the future with his Little Inventors organisation that turns children's ideas into reality. Recently five objects from Little Inventors were taken into the V&A's permanent collection and Dominic has spoken at the United Nations Human Rights Forum on the importance of creativity in education.
Thomas Heatherwick said this: 'Dominic Wilcox's drawings aren't just witty and beautifully drawn, they are serious challenges to the real world to keep looking at itself with innocent eyes, wondering what else is possible.'

For more information about Dominic's work please visit www.dominicwilcox.com and www.littleinventors.org
---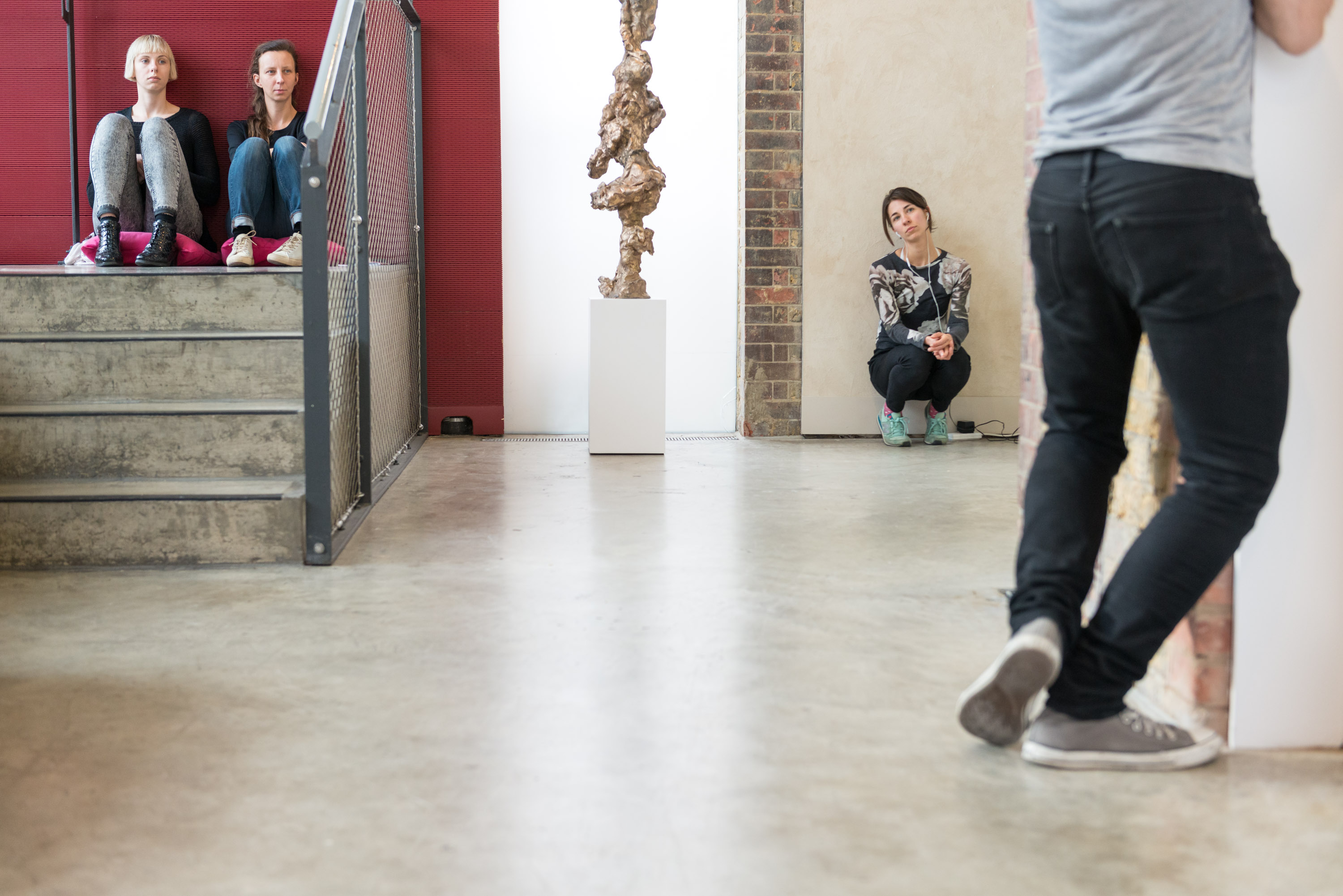 Antonio de la Fe STAGE
05 November to 09 November 2019
Open to the public midday to 5pm daily
Antonio de la Fe is the first Dancer in Residence at The Gallery, an annual programme. to embed dance and choreographic practice in The Gallery. The work Antonio is undertaking through this residency is a part of his ongoing work Speculative Choreographies.
The Speculative Choreographies project explores ways of choreographing other than by fixing material on the body and in the studio. STAGE takes the form of a choreography materialised as a physical object – namely, a book that will function as a score – as well as the performance enabled by the object – in this case, by reading and following the instructions in said book.
The book as score invites Antonio to observe the gallery and its surroundings, watch the visitors and look at the actions they do. The pieces intention is to set a series of 'fronts' or 'stages' and call 'theatre' what happens in them. Throughout the performance Antonio reads, collects and re-enacts the "choreographies" that occur in front of them, making real life a little bit more extraordinary, transforming it into performance.
The book will be completed and assembled during the first few days that Antonio is at work in The Gallery. At first the different sections of the score, each being printed on separate pages, will be worked out both separately and in sequence for the first four days of the exhibition, Tuesday to Thursday. By the end of Thursday a final version of the score is chosen and the final score assembled in the shape of a book. The last two days of the exhibition, on Friday 8 and Saturday 9 November, the piece will be performed from beginning to end, reading the score page by page, passing said pages at regular intervals during the gallery opening hours, from midday to 5 pm.
STAGE will take the form of a book as a choreographic object. This book will be at the same time a piece to be exhibited in itself as well as a score to enable the performance of the work to happen. The passing of the pages of said book will give a sequence of instructions to three dancers on how to interact with the space, its surroundings and the visitors, how to develop the material for the piece and how to perform it.
Antonio will discuss his work on the evening of Thursday 7 November from 5.30pm to 7pm.
---
In Conversation: Chris Coekin with Camilla Brown
Wednesday 30th October, 5.30pm – 7.30pm
The artist Chris Coekin will discuss his current exhibition Stop Look Listen with the curator and academic Camilla Brown.
Chris Coekin has been preoccupied with the power of photography since his youth. Having shot his first role of film in 1982, at the age of fourteen, he continued to take photographs through his teenage years. He was brought up on the Eyres Monsell estate in the South of Leicester where his surroundings shaped much of his future subject matter as a photographer. His work is funny and mischievous, gently sending up grand histories of class, international politics and documentary photography.
Coekin lives and works in Los Angeles.
Camilla Brown is a curator, writer and educator on contemporary art, specialising in photography based in the Derbyshire. For ten years she was Senior curator at The Photographers' Gallery, London previously she was Exhibitions Curator at Tate Liverpool. She works at both the University of Derby, where she teaches on the MA photography and film and at Middlesex University as Senior Lecturer Creative Industries. Her writing on contemporary photography is regularly published in books and magazines. For the past 3 years she has been Associate Curator at Grain Photography Hub. She is on the steering group for the Format Photography Festival.
Examples of her work appear on her website at www.camillaebrown.co.uk.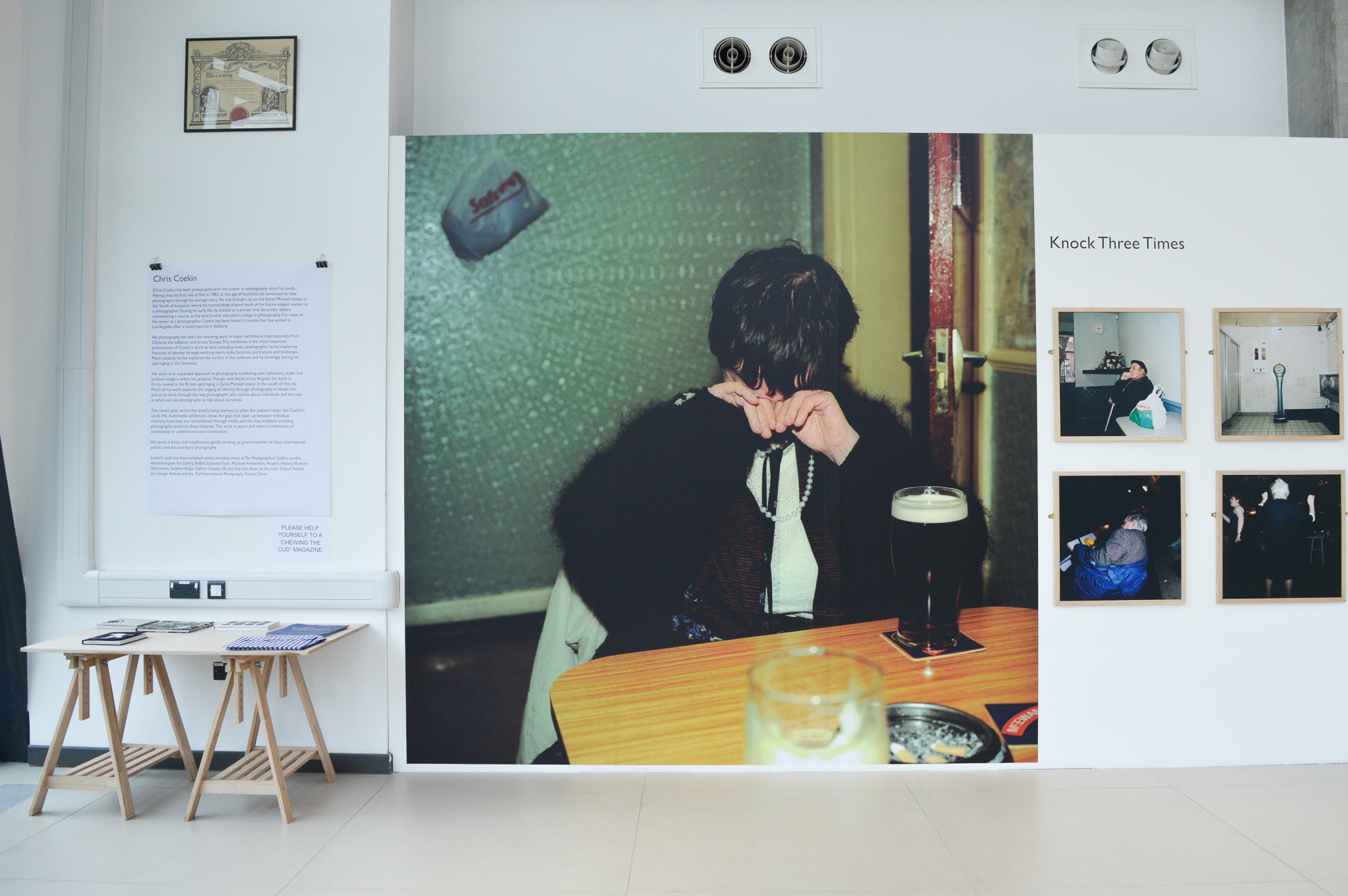 ---
In Conversation: with Anna Lucas and Alice Theobald
Wednesday 9th October, 5.30pm – 8pm
Artists Anna Lucas and Alice Theobald will be in conversation with Peter Bonnell, Senior Curator at QUAD in Derby. Both artists use moving-image to make their art. This conversation will explore their use of the medium, experiences and working with curators and galleries, and approaches to aesthetic discourse.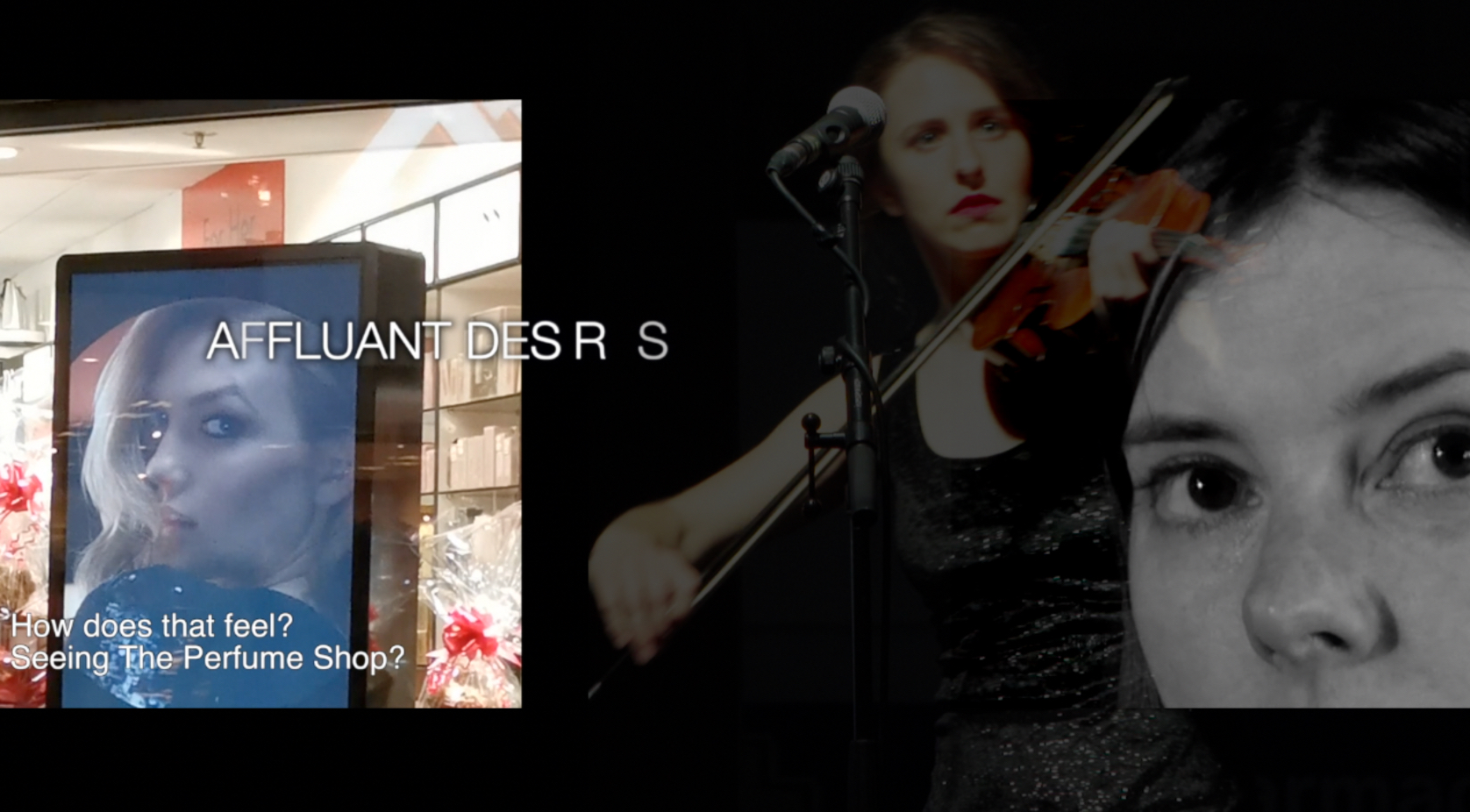 ---
Giles Duley talk
Thursday 22 August, 5.30pm
Inspiring photographer Giles Duley is set to bring his emotive exhibition, 'I Can Only Tell You What My Eyes See', to the annual arts festival, Journeys Festival International Leicester from 16 to 30 August
Giles Duley's artist talk takes place on Thursday 22 August, 5.30pm at The Gallery, De Montfort University.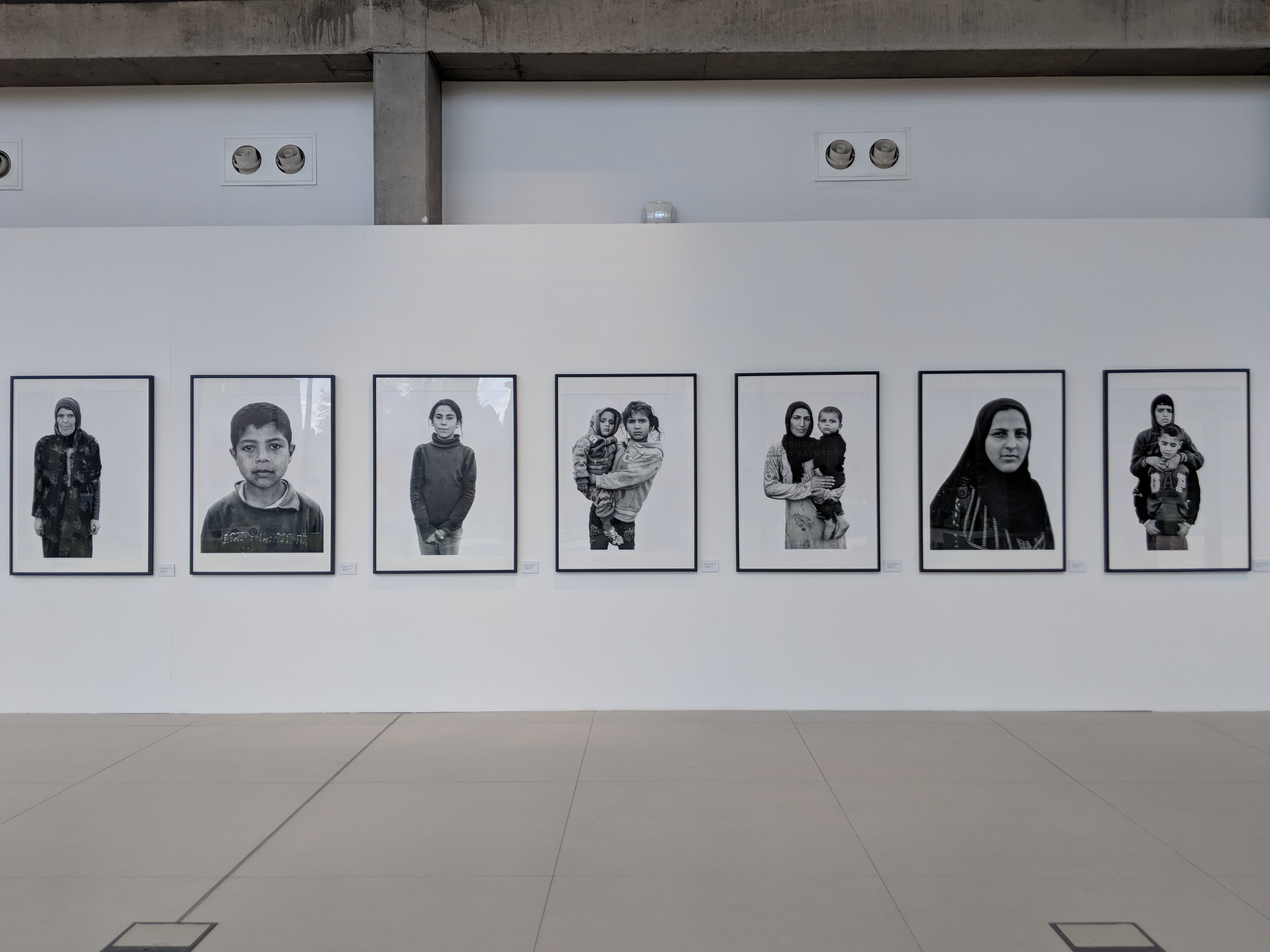 ---
The Nine
13 May 2019
The Nine is an photography exhibition showcasing the work of nine DMU Media and Communication BA (Hons) graduating students.
Curated by Professor Lala Meredith-Vula who also guided the group though out the year in a photography and video module.
Based on notions of body and space each student/photographer has created original final works that reflects thoughts, dreams and aspirations of their generation. Jessica Fayemi, Rebecca Feast, Marvellous Igbokwe, Suleiman Ismaila, Ashleigh Lowe, Yara Mahran, Suzannah Gabriel, Nicky Prempeh and Gladys Rwabuhemba come together for the first time, in an interesting visual photographic conversation…

Jamie Scott, Leicester/Baroda exchange exhibition, The Gallery, De Montfort University
---
Leicester and India: Research at De Montfort University
A showcase of research on Leicester and India from across the university
30 April to 4 May 2019
Exhibition open 12-5pm daily
Lunchtime events 1-2pm Tuesday-Friday, refreshments available from 12.30pm each day

Tuesday 30 April, 1-2pm
Welcome talk and tour of exhibition
Professor Andy Collop, Interim Vice -Chancellor
Professor Rusi Jaspal, Pro Vice-Chancellor (Research)
Councillor Manjula Sood

Wednesday 1 May, 1-2pm
The Loving Community, Ahmedabad
Hear from Ahmedabad resident and local architect Anand Sonecha along with members of staff from Leicester School of Architecture at DMU about this partnership to improve the housing of members of the Loving Community in Ahmedabad.

Thursday 2 May 1-2pm
1 – 1.15 pm
The 'Real' Europeans in India: German Settlers in the British Empire, 1840-1920
Professor Panikos Panayi, Arts, Design & Humanities
1.15 – 1.30 pm
MeHeLP India: Mental health Literacy in urban and rural communities in India: An interdisciplinary approach using applied theatre methodology
Professor Raghu Raghavan, Faculty of Health and Life Sciences
1.30 – 1.45 pm
Comparative capitalism and Emerging Economies: What does the case of India tell us?
Dr. Anita Hammer, Faculty of Business and Law
1.45 – 2 pm
Q&A Session
Friday 3 May, 1-2pm
1 – 1.10 pm
DMU Square Mile India – local engagement in a global context
Sunita Patel, Strategic and International Partnerships
1.10 – 1.20 pm
Remnants of 1947: The Muslim Other
Dr Pippa Virdee, Faculty of Arts, Design & Humanities
1.20 – 1.30 pm
Artist exchanges between Fine Art DMU and the Faculty of Fine Arts, Maharaja Sayajirao University of Baroda
Jamie Scott, Faculty of Arts, Design & Humanities
1.30 – 1.40 pm
Two decades of research on India's energy issues
Professor Subhes Bhattacharyya, Faculty of Computing, Engineering and Media
1.40 – 2 pm
Q&A Session
Saturday 4 May
Family workshops 1 – 3pm
Inspired by the work in India undertaken by Leicester School of Architecture our family visitors will have a chance to make everything from bricks and tiles through to small dwellings of their own…
For further information or to book a place at any of these events please email thegallery@dmu.ac.uk
---

Anna Lucas, One Second Feature, The Gallery, De Montfort University
Feature
A conversation about artists, collaboration and learning contexts
11am to 4pm
4 April 2019
This session is built around Anna Lucas's installation One Second Feature at The Gallery, De Montfort University. The exhibition explores different strategies for collaborative practice much of which is embedded in the context of learning departments in museums and galleries or institutional settings.
The day will include both artist and institutional voices exploring models of collaboration. We will be looking at the particular opportunities and inflections that learning settings offer to artists working within them. Through the conversation we will track the ways in which this work influences wider practice for the artist and the institutions that host them.
Speakers include Becky Shaw, Anna Lucas, Alice Walton, Hamish MacPherson and Lisa Jacques
The event, taking place within Anna's exhibition, has a limited capacity to ensure a convivial, conversational, collaborative experience throughout the event. Lunch will be served.
For further information or to book a place at the event please email
---

Troupes & crews:
Performance as engagement
2pm to 5pm, Monday 26th November
This symposium explores the opportunities for engagement through performative practices in the gallery. It will be of particular interest for artists, curators, students and educators with experience of or interest in working in these areas.
fig-futures at The Gallery will show four exhibitions across four weeks by the artists Anna Barham, Ben Judd, Annika Ström and Kathryn Elkin. All of the artists have created new performances that are premiered at their Monday launch event and then presented through the week-long exhibition.
Through conversation with these artists and invited speakers from curatorial and educational backgrounds we will explore their experiences of the extraordinary fig-2 and fig-futures projects. In all of the artists work active participants are an important element in their practice. At The Gallery three of the projects include participants drawn directly form the surrounding community to perform in the work.
Please book your place by emailing: thegallery@dmu.ac.uk
Join us subsequently for the opening event of Kathryn Elkin's fig-futures exhibition at The Gallery, 6 to 8pm.
fig-futures is a new collecting scheme that is initiated under the framework of fig-legacy. Supported by Arts Council England<http://www.artscouncil.org.uk/>, Art Fund<http://www.artfund.org/> and Outset<http://www.outset.org.uk/> with six partnering institutions and public collections in the UK, fig-futures will present 16 fig-2 alumni artists outside London. Activating the same curatorial framework as fig-2, 50 projects in 50 weeks, each venue will organise 4 exhibitions in 4 consecutive weeks embedded in their programme.
---
Migration and Refugees
18 April to 21 April 2018
A showcase of research at De Montfort University
---
'By Leaves We Live Not by the Jangle of Our Coins'
A Walker & Bromwich performance,
10th March 2018 13:30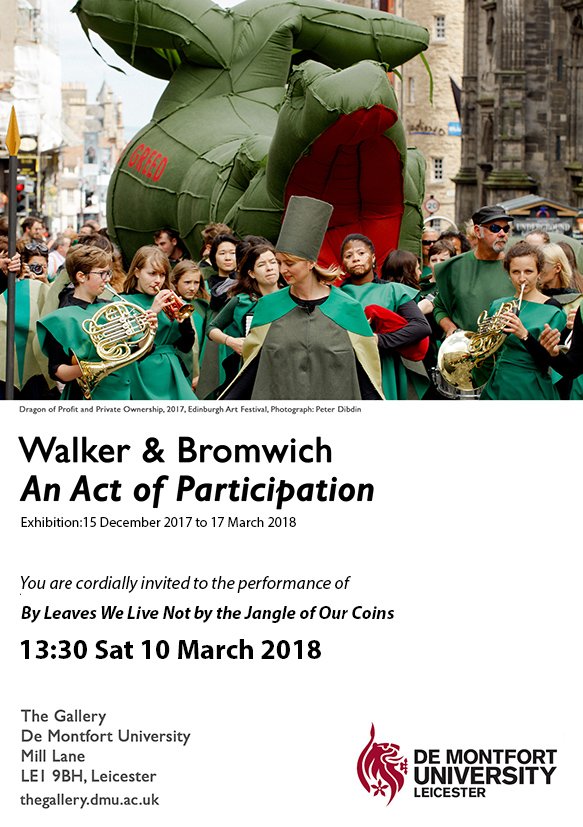 In Conversation with Antonio de la Fe

23rd January 2018 – 7-8PM
Join us for a free talk with Arts Curator, Hugo Worthy who will be in Conversation with choreographer Antonio de la Fe at The Gallery.
Swarm Sculptures
Swarm Sculptures is a durational movement installation conceived by Dance Artist Lucy Suggate. Influenced by swarm intelligence as a choreographic process and the body as sculpture, the work takes the infectious nature of movement to transform the single human form into a communal and collective body.
Wednesday 23 November: 3PM – 5PM
Thursday 24 November: 11:30AM – 1PM
Friday 25 November: 6PM – 8PM
Saturday 26 November: 3PM – 5PM
This event if FREE to attend, audiences can drop in and out of the performance as they please.
Simon Davis
7 June 2017
Simon Davis is both the illustrator of many celebrated comic book titles (including Judge Dredd) and one of the leading portrait artists of his generation. He will talk about these two areas of his practice and how they relate. Presented in partnership with the Leicester Sketch Club.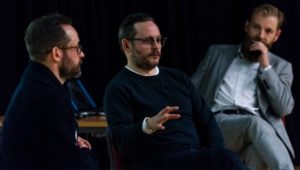 Simon and Tom Bloor in conversation. Symposium: Off the Map. Wednesday 16 November 2016. Photography Jane Moorhouse
CORRESPONDENCES

3pm to 4pm, Saturday 25 March, 2017
Room 4.05
Vijay Patel Building


De Montfort University


LE2 7DR
(Entrance through The Gallery, Mill Lane)

A concert of audio/visual performances of works by
Mark Fell and Jean-Pierre Husquinet
in collaboration with


Ernest Edmonds

Crinan 1 by Jean-Pierre Husquinet and Ernest Edmonds, 1990
Port Hacking by Mark Fell and Ernest Edmonds, 2003
DC_Release by Mark Fell and Ernest Edmonds, 2007
Each of these works integrates colour, form and sound in generative audio/visual performances

Entrance is free.
Tickets should be booked by email to Hugo.Worthy@dmu.ac.uk including the name of attendees and a contact telephone number.   
Laura Dawes
5 April 2017
The computer game artist will give an insight into the industry, her approach to creativity and an overview of computer games as an art form. Presented in partnership with the Leicester Sketch Club.
Lucy Suggate, Swarm
Wednesday 23 November to Saturday 26 November
Swarm Sculptures is a durational movement installation created by dance artist Lucy Suggate. Influenced by swarm intelligence as a choreographic process and the body as sculpture, the work takes the infectious nature of movement to transform the single human form into a communal and collective body.
Symposium: Off the Map
Wednesday 16 November 2016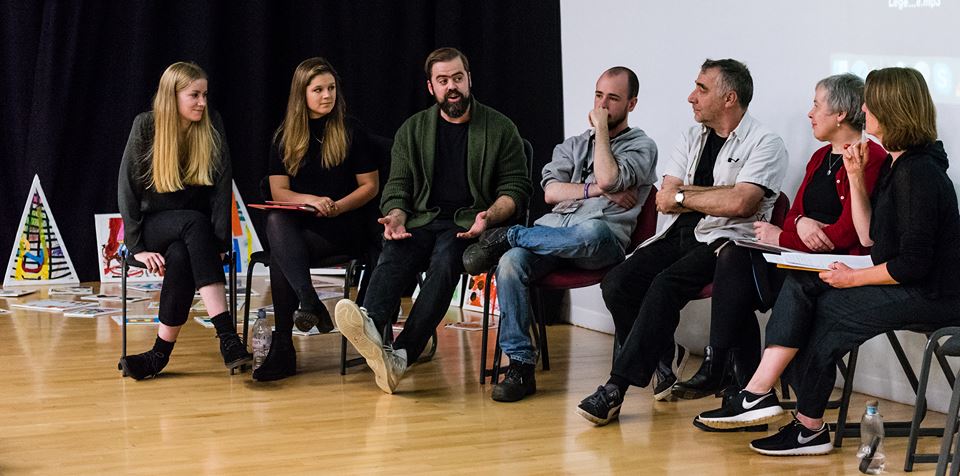 Generation ART panel at De Montfort University. From left: Gina Mollett, Hannah Pillai Untitled Play),Owen Craven Griffiths, Vince Attwood Soft Touch Arts, Jane Sillis and Kamina Walton. Photography Jane Moorhouse.
The event included a panel composed of the organisers and partners in Generation Art. This was supported by thoughtful talks from Simon and Tom Bloor, Kate Owens, Sam Thorne, The Mighty Creatives and Andrew Vaughan.
Photography Jane Moorhouse.