Jamie Scott, Leicester/Baroda exchange exhibition, The Gallery, De Montfort University
Leicester and India: Research at De Montfort University
A showcase of research on Leicester and India from across the university
30 April to 4 May 2019
Exhibition open 12-5pm daily
Lunchtime events 1-2pm Tuesday-Friday, refreshments available from 12.30pm each day

Tuesday 30 April, 1-2pm
Welcome talk and tour of exhibition
Professor Andy Collop, Interim Vice -Chancellor
Professor Rusi Jaspal, Pro Vice-Chancellor (Research)
Councillor Manjula Sood

Wednesday 1 May, 1-2pm
The Loving Community, Ahmedabad
Hear from Ahmedabad resident and local architect Anand Sonecha along with members of staff from Leicester School of Architecture at DMU about this partnership to improve the housing of members of the Loving Community in Ahmedabad.

Thursday 2 May 1-2pm
1 – 1.15 pm
The 'Real' Europeans in India: German Settlers in the British Empire, 1840-1920
Professor Panikos Panayi, Arts, Design & Humanities
1.15 – 1.30 pm
MeHeLP India: Mental health Literacy in urban and rural communities in India: An interdisciplinary approach using applied theatre methodology
Professor Raghu Raghavan, Faculty of Health and Life Sciences
1.30 – 1.45 pm
Comparative capitalism and Emerging Economies: What does the case of India tell us?
Dr. Anita Hammer, Faculty of Business and Law
1.45 – 2 pm
Q&A Session
Friday 3 May, 1-2pm
1 – 1.10 pm
DMU Square Mile India – local engagement in a global context
Sunita Patel, Strategic and International Partnerships
1.10 – 1.20 pm
Remnants of 1947: The Muslim Other
Dr Pippa Virdee, Faculty of Arts, Design & Humanities
1.20 – 1.30 pm
Artist exchanges between Fine Art DMU and the Faculty of Fine Arts, Maharaja Sayajirao University of Baroda
Jamie Scott, Faculty of Arts, Design & Humanities
1.30 – 1.40 pm
Two decades of research on India's energy issues
Professor Subhes Bhattacharyya, Faculty of Computing, Engineering and Media
1.40 – 2 pm
Q&A Session
Saturday 4 May
Family workshops 1 – 3pm
Inspired by the work in India undertaken by Leicester School of Architecture our family visitors will have a chance to make everything from bricks and tiles through to small dwellings of their own…
For further information or to book a place at any of these events please email thegallery@dmu.ac.uk

Anna Lucas, One Second Feature, The Gallery, De Montfort University
Feature
A conversation about artists, collaboration and learning contexts
11am to 4pm
4 April 2019
This session is built around Anna Lucas's installation One Second Feature at The Gallery, De Montfort University. The exhibition explores different strategies for collaborative practice much of which is embedded in the context of learning departments in museums and galleries or institutional settings.
The day will include both artist and institutional voices exploring models of collaboration. We will be looking at the particular opportunities and inflections that learning settings offer to artists working within them. Through the conversation we will track the ways in which this work influences wider practice for the artist and the institutions that host them.
Speakers include Becky Shaw, Anna Lucas, Alice Walton, Hamish MacPherson and Lisa Jacques
The event, taking place within Anna's exhibition, has a limited capacity to ensure a convivial, conversational, collaborative experience throughout the event. Lunch will be served.
For further information or to book a place at the event please email

Troupes & crews:
Performance as engagement
2pm to 5pm, Monday 26th November
This symposium explores the opportunities for engagement through performative practices in the gallery. It will be of particular interest for artists, curators, students and educators with experience of or interest in working in these areas.
fig-futures at The Gallery will show four exhibitions across four weeks by the artists Anna Barham, Ben Judd, Annika Ström and Kathryn Elkin. All of the artists have created new performances that are premiered at their Monday launch event and then presented through the week-long exhibition.
Through conversation with these artists and invited speakers from curatorial and educational backgrounds we will explore their experiences of the extraordinary fig-2 and fig-futures projects. In all of the artists work active participants are an important element in their practice. At The Gallery three of the projects include participants drawn directly form the surrounding community to perform in the work.
Please book your place by emailing: thegallery@dmu.ac.uk
Join us subsequently for the opening event of Kathryn Elkin's fig-futures exhibition at The Gallery, 6 to 8pm.
fig-futures is a new collecting scheme that is initiated under the framework of fig-legacy. Supported by Arts Council England<http://www.artscouncil.org.uk/>, Art Fund<http://www.artfund.org/> and Outset<http://www.outset.org.uk/> with six partnering institutions and public collections in the UK, fig-futures will present 16 fig-2 alumni artists outside London. Activating the same curatorial framework as fig-2, 50 projects in 50 weeks, each venue will organise 4 exhibitions in 4 consecutive weeks embedded in their programme.
Migration and Refugees
18 April to 21 April 2018
A showcase of research at De Montfort University
---
'By Leaves We Live Not by the Jangle of Our Coins'
A Walker & Bromwich performance,
10th March 2018 13:30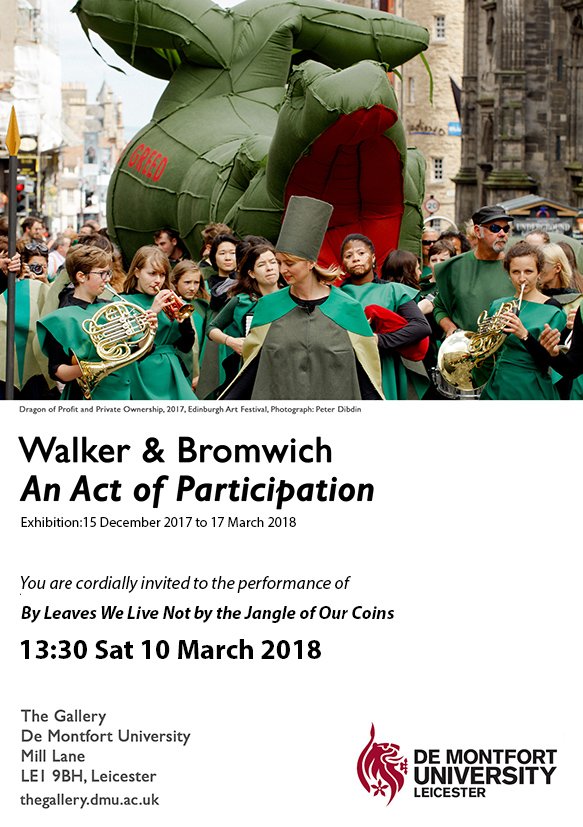 In Conversation with Antonio de la Fe

23rd January 2018 – 7-8PM
Join us for a free talk with Arts Curator, Hugo Worthy who will be in Conversation with choreographer Antonio de la Fe at The Gallery.
Simon Davis
7 June 2017
Simon Davis is both the illustrator of many celebrated comic book titles (including Judge Dredd) and one of the leading portrait artists of his generation. He will talk about these two areas of his practice and how they relate. Presented in partnership with the Leicester Sketch Club.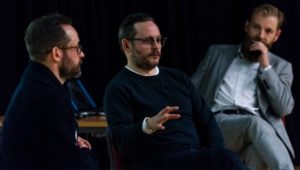 Simon and Tom Bloor in conversation. Symposium: Off the Map. Wednesday 16 November 2016. Photography Jane Moorhouse
CORRESPONDENCES

3pm to 4pm, Saturday 25 March, 2017
Room 4.05
Vijay Patel Building
De Montfort University
LE2 7DR
(Entrance through The Gallery, Mill Lane)

A concert of audio/visual performances of works by
Mark Fell and Jean-Pierre Husquinet
in collaboration with
Ernest Edmonds

Crinan 1 by Jean-Pierre Husquinet and Ernest Edmonds, 1990
Port Hacking by Mark Fell and Ernest Edmonds, 2003
DC_Release by Mark Fell and Ernest Edmonds, 2007
Each of these works integrates colour, form and sound in generative audio/visual performances

Entrance is free.
Tickets should be booked by email to Hugo.Worthy@dmu.ac.uk including the name of attendees and a contact telephone number.   
Laura Dawes
5 April 2017
The computer game artist will give an insight into the industry, her approach to creativity and an overview of computer games as an art form. Presented in partnership with the Leicester Sketch Club.
Lucy Suggate, Swarm
Wednesday 23 November to Saturday 26 November
Swarm Sculptures is a durational movement installation created by dance artist Lucy Suggate. Influenced by swarm intelligence as a choreographic process and the body as sculpture, the work takes the infectious nature of movement to transform the single human form into a communal and collective body.
Symposium: Off the Map
Wednesday 16 November 2016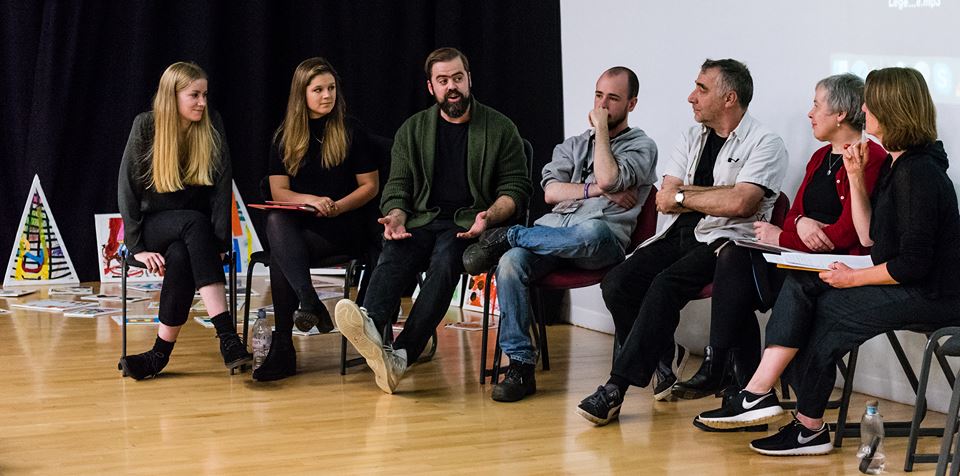 Generation ART panel at De Montfort University. From left: Gina Mollett, Hannah Pillai Untitled Play),Owen Craven Griffiths, Vince Attwood Soft Touch Arts, Jane Sillis and Kamina Walton. Photography Jane Moorhouse.
The event included a panel composed of the organisers and partners in Generation Art. This was supported by thoughtful talks from Simon and Tom Bloor, Kate Owens, Sam Thorne, The Mighty Creatives and Andrew Vaughan.
Photography Jane Moorhouse.