CORRESPONDENCES

3pm to 4pm, Saturday 25 March, 2017
Room 4.05
Vijay Patel Building
De Montfort University
LE2 7DR
(Entrance through The Gallery, Mill Lane)

A concert of audio/visual performances of works by
Mark Fell and Jean-Pierre Husquinet
in collaboration with
Ernest Edmonds

Crinan 1 by Jean-Pierre Husquinet and Ernest Edmonds, 1990
Port Hacking by Mark Fell and Ernest Edmonds, 2003
DC_Release by Mark Fell and Ernest Edmonds, 2007
Each of these works integrates colour, form and sound in generative audio/visual performances

Entrance is free.
Tickets should be booked by email to Hugo.Worthy@dmu.ac.uk including the name of attendees and a contact telephone number.   
Laura Dawes
5 April 2017
The computer game artist will give an insight into the industry, her approach to creativity and an overview of computer games as an art form. Presented in partnership with the Leicester Sketch Club.
Lucy Suggate, Swarm
Wednesday 23 November to Saturday 26 November
Swarm Sculptures is a durational movement installation created by dance artist Lucy Suggate. Influenced by swarm intelligence as a choreographic process and the body as sculpture, the work takes the infectious nature of movement to transform the single human form into a communal and collective body.
Symposium: Off the Map
Wednesday 16 November 2016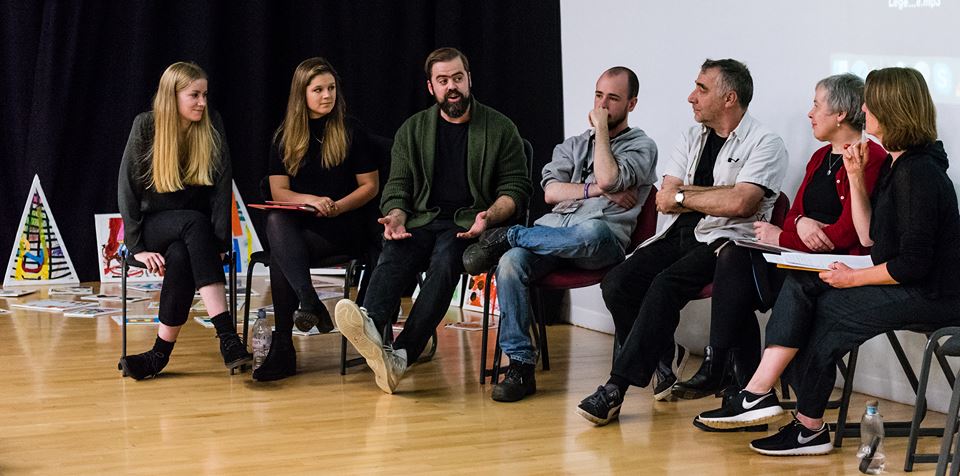 Generation ART panel at De Montfort University. From left: Gina Mollett, Hannah Pillai Untitled Play),Owen Craven Griffiths, Vince Attwood Soft Touch Arts, Jane Sillis and Kamina Walton. Photography Jane Moorhouse.
The event included a panel composed of the organisers and partners in Generation Art. This was supported by thoughtful talks from Simon and Tom Bloor, Kate Owens, Sam Thorne, The Mighty Creatives and Andrew Vaughan.
Photography Jane Moorhouse.