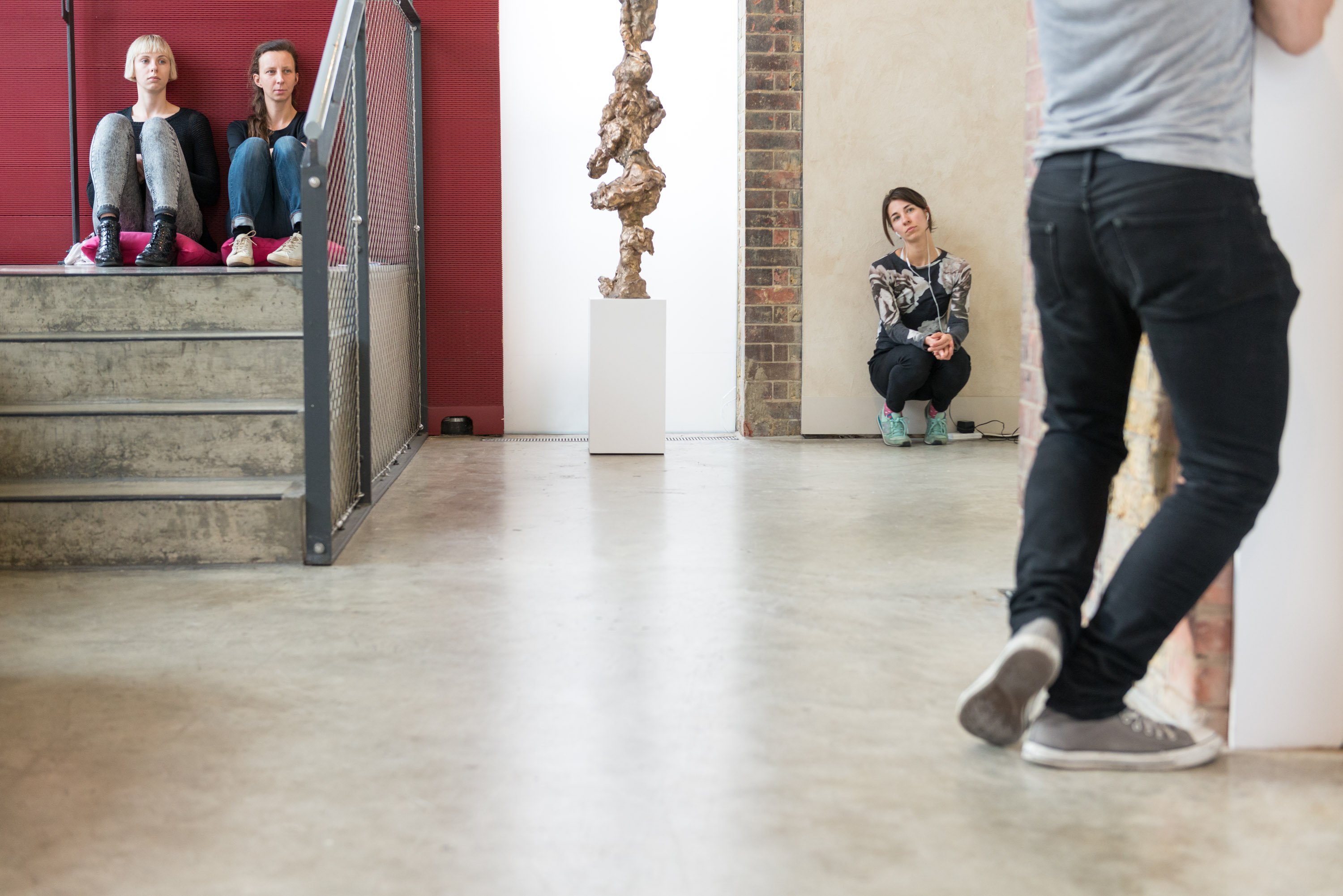 Antonio de la Fe STAGE
05 November to 09 November 2019
Open to the public midday to 5pm daily
Antonio de la Fe is the first Dancer in Residence at The Gallery, an annual programme. to embed dance and choreographic practice in The Gallery. The work Antonio is undertaking through this residency is a part of his ongoing work Speculative Choreographies.
The Speculative Choreographies project explores ways of choreographing other than by fixing material on the body and in the studio. STAGE takes the form of a choreography materialised as a physical object – namely, a book that will function as a score – as well as the performance enabled by the object – in this case, by reading and following the instructions in said book.
The book as score invites Antonio to observe the gallery and its surroundings, watch the visitors and look at the actions they do. The pieces intention is to set a series of 'fronts' or 'stages' and call 'theatre' what happens in them. Throughout the performance Antonio reads, collects and re-enacts the "choreographies" that occur in front of them, making real life a little bit more extraordinary, transforming it into performance.
The book will be completed and assembled during the first few days that Antonio is at work in The Gallery. At first the different sections of the score, each being printed on separate pages, will be worked out both separately and in sequence for the first four days of the exhibition, Tuesday to Thursday. By the end of Thursday a final version of the score is chosen and the final score assembled in the shape of a book. The last two days of the exhibition, on Friday 8 and Saturday 9 November, the piece will be performed from beginning to end, reading the score page by page, passing said pages at regular intervals during the gallery opening hours, from midday to 5 pm.
STAGE will take the form of a book as a choreographic object. This book will be at the same time a piece to be exhibited in itself as well as a score to enable the performance of the work to happen. The passing of the pages of said book will give a sequence of instructions to three dancers on how to interact with the space, its surroundings and the visitors, how to develop the material for the piece and how to perform it.
Antonio will discuss his work on the evening of Thursday 7 November from 5.30pm to 7pm.